How to Get Your Kid the Little Mermaid Disneyland Mickey Ears
They come with a tiny dinglehopper attached.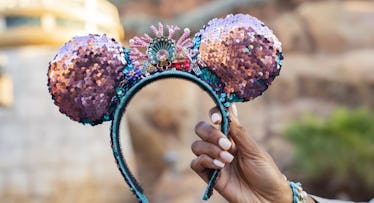 Credit: Disney Parks
One way our kids love to show off their adoration for all things Disney is by wearing their own pair of mouse ears. Disney has released several versions of these ears inspired, each with their own inspiration. Disney fans have also taken on the magic by designing their own mouse-inspired ears, like Baby Yoda ears. These ears a signature of the brand and Disney's latest offering of these Little Mermaid Disneyland Mickey ears is bound to have our kids asking for one. Here's how you can grab a pair for your kid.
A collaboration between Disney and famous fashion designer, Betsey Johnson, has resulted in a Little Mermaid collection of accessories, including those famous ears. Johnson is the latest fashion designer to participate in the ongoing Disney Parks Designer Collection.
Previous designers, including model Heidi Klum, Cupcakes and Cashmere, and Coach have all brought their own touch to Disney Magic. And Johnson's collaboration, inspired by The Little Mermaid, comes with six accessories, including the ears.
The star of the collection is, no doubt, these ears. The Minnie Mouse ears are attached to a headband, covered in reversible pink and blue sequins – a touch kids will no doubt become obsessed with. The centerpiece of these ears is a small dinglehopper, aka a fork, famously named from The Little Mermaid, and a seashell.
The collection will be available online, so you don't even need to book a trip to the park to grab a pair for your kids. The collection ranges in price from $65 to $175 and can be purchased at shopDisney, and in person at Walt Disney World and Disneyland starting February 21.
This article was originally published on