List of the Best Cities For New Moms Shows One Weird Thing in Common
Looking for your maternal paradise? Here's where you should be heading.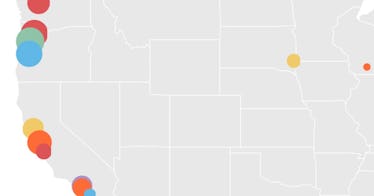 LawnStarter
They say it takes a village to raise a child but for most American moms, the "village" they call home provides little support when it comes to parenting. If you are an overworked, underappreciated mom who is hoping to find a city that might actually make your life easier, you are definitely going to want to check out this list of 2021's best cities for new moms.
LawnStarter compared 174 of the largest cities in the United States by seven categories, including maternity care, affordability, child care, and mom protection ("strength of breastfeeding laws and amount of additional paid leave allowed for pregnancy and childbirth").
Once those totals were tallied, the official ranking was formed, and interestingly, the list revealed that if you are looking for mom-friendly cities, you should definitely head to the coast.
In fact, all of the top 10 cities listed were located on the coast.
;
The first non-coastal pick came in at no. 20, with Sioux Falls, South Dakota managing to be the lone representative of America's heartland.
The standout coastal state proved to be Oregon, which managed to have three of the top four cities.
Jersey City just beat out Eugene to keep Oregon from holding the top three, as it offers exceptional maternity care, child care, and mom protections.
Yonkers rounded out the top five, followed by Paterson, New Jersey, and Sunnyvale making the first showing for California.
New York City and Boston managed to grab spots in the top 10, as the Big Apple beat Beantown by less than a point in the rankings to earn the eighth slot. Bellevue, Washington was the tenth-ranked city, ensuring coastal dominance.
So if you are an expecting mother or a mom who just needs a little help, the answer is clear: head towards the ocean and prepare for maternal paradise.