Lindsay Lohan's New Baby Has A Mighty Name — Here's What It Means
Congratulations to the happy couple!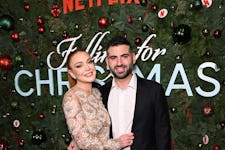 Bryan Bedder/Getty Images Entertainment/Getty Images
Congratulations to Lindsay Lohan and her husband Bader Shammas, who welcomed their first baby into the world! The couple shared the news through Lohan's representative, saying, "The family is over the moon in love." It's been reported that the proud parents welcomed a baby boy and gave him a unique name.
According to Page Six, who spoke to a rep for Lohan, she and Shammas welcomed their new baby in Dubai, where the couple lives. Though there are scant details so far, the rep did take the time to reveal the baby boy's name — an uncommon name in the U.S., since it's not in the top 1000 most popular baby names in any year since 1900, at least according to the U.S. Social Security Administration.
Lohan and Shammas named their son Luai. According to Nameberry, the name Luai is often used for boys. It's an Arabic name that means "protector" or "shield," and it's phonetically pronounced Lu-AY, but said more as one syllable.
"At last count, Luai was given to fewer than five baby boys in the US," PageSix noted. "Luay, the more common variation of the name, was used for eight boys in 2022." So baby Luai is one of a kind — at least in the United States! Neither of the spellings of the name — either Luai or Luay — have been in the top 1000 baby names in the United States since the turn of the 20th century, actually.
Congrats to Lohan and Shammas, and welcome to the world, Luai!