Lindsay Flach, Heptathlete, Supermom, Competes in Olympic Trials At 18 Weeks Pregnant
"The secret is no secret anymore."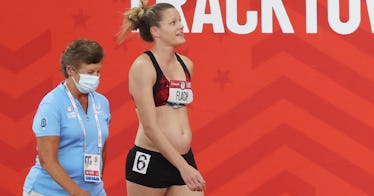 GETTY
Lindsay Flach did not let an 18-week pregnancy keep her from chasing her Olympic dream, as she competed in the heptathlon trials in Oregon over the weekend.
"To be honest, I was going to the tryouts and I was trying to keep it on the down-low, because I just wanted to finish my career on my terms," Flach told TODAY Parents.
But once the cat was out of the bag, Flach ended up sharing the news on Instagram, writing that "the secret is no secret anymore" while posting photos of her baby bump at the Olympic trials.
The heptathlon is one of the more intense Olympic events, as it features seven different competitions, including the 100-meter hurdle, shot put, and 800-meter run. Flach ended up finishing fifteenth out of the 18 competitors and is unlikely to end up going to go Tokyo.
Flach has been praised by fans for completing such a grueling event despite being 18 weeks pregnant. The 31-year-old previously competed in the heptathlon at the Olympic trials in 2012 and 2016 and decided to try one final time before calling it a career. After the event, she said she was proud that she proved what pregnant women are capable of.
"There are so many stories about running while pregnant and working out while pregnant, so I'm glad I could be a piece of proving a woman can do it," Flach said.
People will often say that someone should not work out while they are pregnant but that isn't true, according to experts. Obstetricians say that pregnancy should not stop a person from exercising, so long as there are not any specific risk factors.
Due to the brutal heat in Oregon, Flach did end up stepping off the track during the 800-meter run, as she wanted to prioritize her health and the health of her baby. After the race, she said that the pregnancy had given her a new level of respect for mothers.
"Even these 18 weeks I have learned mamas need way more praise than they receive," she said. "And are capable of way more than people allow or give them credit for."
This article was originally published on