Meghan Markle and Prince Harry Released First Photo of Lilibet. She Looks Just Like Archie
The royals took the opportunity to address the need for paid leave on their Christmas card.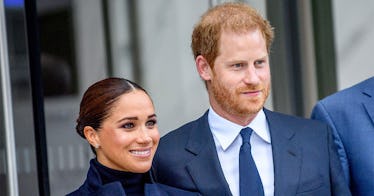 Roy Rochlin/Getty
The Sussexess holiday card has been released and it's giving people a first look at their daughter, Lilibet Diana. The youngest Sussex was born on June 4 and she's made her holiday card debut and, as expected, she looks just like her older brother, 2-year-old Archie.
Every year, Meghan Markle and Prince Harry release a holiday card, which is a tradition in the royal family. The Queen releases one, Prince Charles and Camilla have one each year, as do Prince William and Kate Middleton. Meghan and Harry joined in on the tradition after they married in 2018 and they tend to go a little less traditional.
Since the other royal members had released their photos already this year, all eyes were on the Duke and Duchess of Sussex – with many hoping we'd get a glimpse at their youngest Lilibet, who they call Lili. She was born six months ago and so far, a photo of her hasn't been shared with the public. Which is what makes the holiday card that much more special.
The photo featured on this year's holiday card was taken by the same photographer who captured their wedding. Taken by Alexi Lubomirski this summer at the couple's home in Santa Barbara, California, the family of four are all smiles.
"This year, 2021, we welcomed our daughter, Lilibet, to the world. Archie made us a 'Mama' and a 'Papa', and Lili made us a family," the message reads. "As we look forward to 2022, we have made donations on your behalf to several organizations that honor and protect families – from those being relocated from Afghanistan to American families in need of paid parental leave."
The message continues, "In addition to focusing on Afghan resettlement, we are also making contributions to organizations supporting families through paid leave, something The Duchess of Sussex has previously noted is a humanitarian issue that she believes must be urgently addressed in the United States."
The photo, which features Harry holding Archie and Meghan holding Lili, is all smiles and there are a few cute things we can see. The first is Archie's adorable red hair, and the second is Lili who's giving the biggest smile to her family.