Parent-Friendly Desks At A Library Go Viral Because They Simply Rock
"This is how we strengthen families and create a culture and community that values children."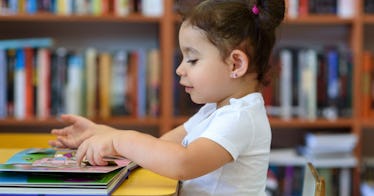 Inna Reznik / Shutterstock
So many of us have had to juggle working from home with our kids in tow. It's not easy and the reality of it is often far more complex than people give it credit for. Having workspaces that are accommodating makes a big difference in keeping sanity while trying to work and parent at the same time. One public library is going viral on Twitter a photo was shared of a unique workspace that keeps working parents in mind.
In a tweet shared by Ali Faruk, the policy director of Families Forward Virginia, which included a photo of a unique workspace at the Henrico County Public Library, it's clear to see why it's gaining so much attention. The workspace is parent-friendly and shows that public spaces can and should keep a variety of people in mind when in the planning phases.
"A new public library in my area has these work stations for caregivers with babies!" Ali tweeted. "Maybe these are common in other places but I've never seen anything like this before."
In a subsequent tweet, she wrote that "Public spaces available and accessible to all are so important. This is how we strengthen families and create a culture and community that values children."
The desk is made by TMC Furniture, according to Ali, which is known for thinking outside the box to come up with imaginative designs. Which this desk certainly fits.
On one side of the dual-desk, there's a workspace and computer for a parent; the other side is a child-safe section that prevents a baby or toddler from wandering away, complete with learning panels to keep them engaged.
According to U.S. Census Bureau, working parents have been hit hard during the pandemic, and, more specifically, working moms. "The pandemic has had a devastating effect on employment overall but especially on mothers' paid labor," the Bureau reports. "The 10 million not working accounted for over one-third of all mothers living with school-age children in the United States, according to the Current Population Survey."
For both mothers and fathers, the pandemic had a profound impact on work. Many moms and dads had to find a way to juggle work and caring for their kids, a large portion of who were home due to school and daycare shutting down because of the pandemic. It's not an easy juggle, but having accommodating workspaces, like the desk at the Henrico County Public Library, could make all the difference in the world.