Parental Support Of LGBTQ+ Teens Is Deeply Important, Study Finds
LGBTQ+ children who feel supported by their parents have fewer symptoms of depression, according to a new study.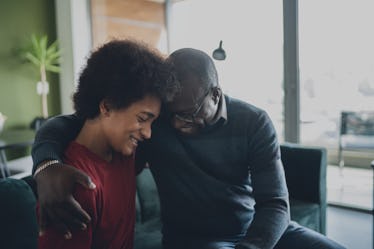 FG Trade/E+/Getty Images
The United States is in the midst of a teen mental health crisis. According to a 2021 survey from the Centers for Disease Control and Prevention, 44% of American teens reported increased feelings of sadness. Numerous studies and surveys have shown that the epidemic of depression and anxiety is more prevalent in teens who identify as members of the LGBTQ+ community than their cisgender and heterosexual peers and that LGBTQ+ teens are more likely to attempt and/or complete suicide than other teens.
So what can parents do? A team of researchers from the University of Texas in Austin recently examined data surrounding depression in LGBTQ+ teens as it related to parental support and psychological control — attempts by the parents to direct or oversee the emotional development, thought processes, expression, or emotions of their LGBTQ+ children.
Researchers collected data from 526 teens — 252 identified as male, 258 identified as female, and 26 identified as another gender. About a quarter of the participants were Black, a quarter were white, a quarter were multiracial, 6.0% were Asian American or Pacific Islander, and around 22% did not self-identify their race or ethnicity. Thirty-one percent identified their ethnicity as Hispanic or Latinx.
The team found that LGBTQ+ children who felt supported by their parents experienced fewer symptoms of depression, while those who experienced more psychological control had more depressive symptoms. "For youth whose parents did not know their LGBTQ identities, having a combination of high psychological control and high social support from parents was linked with greater depressive symptoms," Amy McCurdy, a postdoc researcher at The University of Texas at Austin, explained in a statement.
The Trevor Project's 2022 National Survey on LGBTQ Youth Mental Health reported similar findings. According to the survey, 45% of LGBTQ teens as a whole and more than half of trans teens "seriously considered" suicide in 2021, and 14% of LGBTQ+ teens attempted suicide, including 20% of trans teens. Teens who felt strong social support from their families were more than 50% less likely to attempt suicide than those who did not.
The Trevor Project team also found that simple acts such as respecting pronouns and welcoming LGBTQ+ friends or partners into the home made significant differences in how supported teens felt by their parents and families.
"The fact that very simple things — like support from family and friends, seeing LGBTQ representation in media, and having your gender expression and pronouns respected — can have such a positive impact on the mental health of an LGBTQ young person is inspiring," The Trevor Project Director and CEO Amit Paley said in a release for the study. "And it should command more attention in conversations around suicide prevention and public debates around LGBTQ inclusion."
Many of the teens involved in the Trevor Project survey reported feeling stress or concern due to the wave of anti-LGBTQ legislation sweeping the U.S. Ninety-three percent of transgender teens said that they were concerned transgender people would not be able to receive gender-affirming medical care, and 91% were worried transgender people would not have access to restroom facilities in public spaces.
Between 30% and 40% of the teenagers surveyed also reported that they had experienced some sort of physical harm directly related to their sexual orientation or gender identity.