A Meteor Shower Hits Hours Before Longest Lunar Eclipse of the Century. Here's How to Catch It
The sky is exploding this week, alight with stars and lunar eclipses. Here's what to know.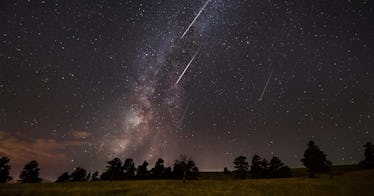 This is shaping up to be a fantastic week for the weird sky community, as the longest lunar eclipse of the entire century is happening on November 18. But wait, there's more!
To prepare yourself for the epic moon, you can also enjoy the peak of the Leonid meteor shower, which will be happening the night before. Here is everything you need to know to ensure you don't miss any of it.
The Leonids Meteor Shower
Every year around mid-November, when the Earth's atmosphere crosses the orbital path of the comet Tempel-Tuttle, it creates meteors that are visible in the night sky.
The peak of the Leonids Meteor Shower will be between midnight and dawn on November 18 (which is Wednesday night but technically Thursday morning, just so you don't miss it). The meteors technically will still be around after that but they'll taper off significantly, so this is definitely your best shot.
How Many Meteors Will I See?
It's difficult to give an exact number, as it changes from year to year. However, it's generally believed there will be between 10-15 meteors per hour during the peak in most of the United States. And you don't need to do any special preparation, just look up at the sky (ideally in a place that doesn't have too much artificial light). The only real bummer is that due to the upcoming lunar eclipse, the brightness of the moon may affect how many meteors you can see and how clear they are.
And What About This Lunar Eclipse?
While it's not a total lunar eclipse, the good news is that this will be the longest lunar eclipse of this entire century, as NASA said that the moon will be in the Earth's shadow for a whopping three hours and 28 minutes (for reference, the longest total lunar eclipse in 2018 lasted an hour and 42 minutes, meaning this will be near twice as long).
So this is definitely a cosmo occurrence that you are going to want to check out. The partial lunar eclipse will take place on November 19, 2021, and will be visible starting at around 2 a.m. EST and is expected to peak at 4:02 a.m. EST.
This article was originally published on