Lenny Kravitz Just Demonstrated How Divorced Dads Should Behave
Once again, the Bonet-Kravitz-Momoa clan is a model for families of divorce everywhere.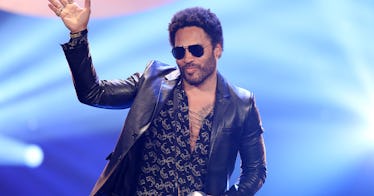 Getty
Lenny Kravitz is once again making a strong case for the ex-husband of the year, this time for wishing Jason Momoa a happy birthday on Twitter despite — or rather because — he married Kravitz's ex-wife, Lisa Bonet.
Kravitz posted a black and white photo of the two men, each with an arm around the other along with the message "Happy Birthday Jason. One family. One love."
It's striking to see this kind of relationship. Old wounds and new jealousies can doom divorced couples to acrimonious relationships that hurt the kids caught in the middle. It takes a lot of maturity to act as though everything is OK, and even more for things to actually be OK.
The Bonet-Kravitz-Momoa clan seems to have gone one step further: their blended status seems to have actually made their family stronger. Zoë Kravitz and her much younger stepsiblings Nakoa-Wolf Manakauapo Namakaeha Momoa and Lola Iolani Momoa probably appreciate it.
Kravitz also posted the photo to Instagram, where he received a "love you, ohana. miss u😍😍🤙🏽🤙🏽" back from Momoa, using a Hawaiian word for family in the extended, inclusive sense, a word that every divorced dad would do well to learn
This article was originally published on