This Competing Olympian Just Met His Newborn Daughter…on Zoom
Two major moments in his life were scheduled to happen at the same time.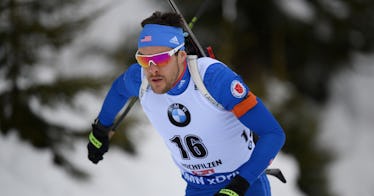 Matthias Hangst/Bongarts/Getty Images
When you want to showcase your skills and solidify yourself as one of the best in the world, some compromises must be made. For competing Biathlon Olympian Leif Nordgren, two major events in his life were scheduled to happen at the same time. And now he's a proud first-time dad to a newborn daughter who was born in Vermont while he's in China, competing for the gold at the Beijing Olympics.
This year's Olympics in Beijing will be the third time Leif has competed, adding to his 2018 run in the Pyeongchang Winter Games and his first appearance in the 2014 Sochi Winter Games. There was a lot on the line this year, not just because it would be his last shot at winning an Olympic medal, but also because his first child was due at the same time.
"When my wife and I found out in June [that I was heading to the Olympics], basically when the due date would be, she was very supportive right away because we knew this was going to be my last Olympics," Leif previously told Boston.com. "Basically, I have my phone on me wherever I go."
Leif's wife, Caitlin Napoleoni, was very supportive of his Olympic run, knowing he would very likely miss the birth of their first child. "I, of course, want him to be there for the delivery. It's a process that takes a team," Caitlin said in a news segment on the NBC affiliate station where she works as a meteorologist.
"But I have to think of him too," she continued. "He's missing it as well, so we're both sacrificing a lot for this. Not only for the baby but for the Olympics as well."
The couple was due to have their baby on the same day as the Olympics opening ceremony – but the baby came a few days late. Astrid Lynae Nordgren was born on February 6 at 7:55 pm, but for dad, who was 13 hours away in Beijing, she was born at 8:55 am on February 7.
US Biathlon shared the news to Twitter celebrating the new member of the Olympic family. "Mom and baby are happy and healthy," the announcement read. Leif was able to meet his little babe via Zoom.
Leif's first Olympic competition of these games took place on February 8 where he finished 87th in the 20K Competition. Coming up, he has the Men's 10K Sprint on February 12, Men's Pursuit on February 13, Men's 4×7.5K Relay on February 15, and the Men's 15K Mass Start on February 18.