Lego Star Wars Announces Five New Sets to Celebrate 20th Anniversary
The limited edition sets will go on sale later this year.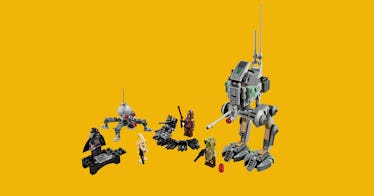 It's been two decades since the launch of Lego's Star Wars line. As the first licensed theme, it paved the way for every other collaboration, from Harry Potter to Minecraft to Voltron. To celebrate the occasion, Lego is releasing five special edition builds, each of a vehicle from one of the movies.
Each of these spacecraft has been released before, but these tweaked versions come with a limited edition minifigure and souvenir stand with a special 20th-anniversary logo. The combinations don't make a ton of sense, storywise (we're not sure why Luke Skywalker is included in the podracing set from before he was born, for instance), but more minifigures in a set is always good news, so we're not complaining.
The bad news is that these sets won't be available until later this year. But look on the bright side: you'll have plenty of time for you to finish your 7,500-piece Millennium Falcon or adorable Porg before tackling these builds.
The Imperial Dropship is, at just 125 pieces, a pretty simple set, but it contains a solid array of minifigures: a Shadow Trooper, three stormtroopers, and collectible Han Solo, complete with painted on smirk. It will retail for $20.
The Phantom Menace doesn't get much love, but its release coincided with the first Lego Star Wars sets and the podracing scene remains one of the best action sequences in the series, so it's only right that Anakin's podracer made this list. Clear Technic pieces connect the pod to the engines, which have flaps that open and close just like in the movie. The $30 set comes with a goggled Anakin and Padme minifigures along with a collectible Luke Skywalker in his orange jumpsuit.
The Clone Scout Walker set includes the armored walking craft, a trench with rotating fun, and Dwarf Spider droid. A Wookiee warrior, golden stormtrooper, clone, and collectible Darth Vader round out the 250-piece set, which will go for $30.
The Lego version of the iconic Snowspeeder comes with a cockpit door that opens and closes, a tow hook, and spring-loaded shooters. Luke and Dak Ralter, a cold weather-clad rebel trooper, and collectible Lando Calrissian also come with the set. It's 309 pieces will run you $40 when it's released.
The biggest set in this collection in Slave I, a 1,007-piece version of Boba Fett's personal ship. The red, green, and gray craft has triggers that fire spring-loaded shooters and a carbonite-ensconced Han Solo in the cargo hold. The collectible figure that comes with this $120 set? Princess Leia, carrying a blaster and rocking the best haircut in the galaxy.
This article was originally published on