Lego Vows to Remove 'Gender Bias' and 'Harmful Stereotypes' From Its Products
"We know we have a role to play in putting this right."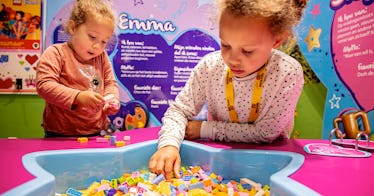 GETTY
Change is a part of life, and when we know better, we do better. That's why the Lego Group vows to make a change to its iconic Lego blocks. In hopes of building a more inclusive society, Lego announced it would remove gender bias and stereotypes from its products. Here's what you need to know.
The company commissioned a study, and the results were the last piece of the puzzle it needed to make a big change. The brand discovered that girls are hindered by "unequal and restrictive" attitudes of play and creativity.
Conducted on Lego's behalf by the Geena Davis research institute, the researchers interviewed close to 7000 parents and children in seven countries. The company noted the findings were only based on sons and daughters, as no children identified as non-binary or gender non-conforming.
Parents and kids were asked about their views on toys, careers, and extracurricular activities. And the results were hard to ignore, finding that 76 percent of parents would encourage their sons to play with Lego bricks while only 24 percent would do so with their daughters.
"We know there is work to do which is why from 2021, we will work closely with the Geena Davis Institute on Gender in Media and UNICEF to ensure LEGO products and marketing are accessible to all and free of gender bias and harmful stereotypes" the company said in a statement.
The study also found that parents were nearly five times more likely to encourage girls to play dress-up than boys. Additionally, parents were more likely to encourage boys to play coding games or sports, and parents were four times more likely to encourage girls to bake, cook, or dance.
Researchers also found more gender bias when most parents imagined a man when asked to think about various careers. And that didn't change at all based on if the parents had a daughter or not. This bias was more apparent in certain professions like engineering, where 89 percent of parents admitted to picturing it more of a man's job. And similar results were seen for scientists or athletes.
The company noted that gender stereotypes impact the creative development of kids and their potential career paths. "The benefits of creative play such as building confidence, creativity and communication skills are felt by all children and yet we still experience age-old stereotypes that label activities as only being suitable for one specific gender," said Julia Goldmin, Lego Group's chief marketing officer, in a statement.
Adding, Goldmin said, "We know we have a role to play in putting this right, and this campaign is one of several initiatives we are putting in place to raise awareness of the issue and ensure we make Lego play as inclusive as possible."