Could LeBron James Play Against His Son in the NBA?
LeBron would be the first dad in NBA history to play at the same time as his son.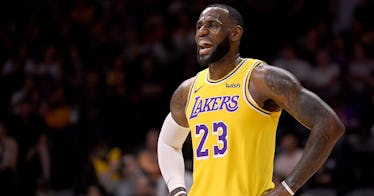 Getty
Earlier this week, NBA legend and superdad LeBron James spoke with GQ about legacy, politics, and the game of basketball but the most interesting moment in the interview came when he began discussing the possibility of someday getting to play in the NBA against his son, Bronny. James admitted he wasn't sure he would still be around by then but he did lay out his clear strategy for matching up against his now 12-year-old son.
"I'll foul the shit out of him!" James explained. "I'd give him all six fouls. I'd foul the shit out of Bronny, man."
So could LeBron actually end up playing against, and subsequently fouling out against his son Bronny in an NBA game? The idea of James being in the league long enough to play his son at first seems ridiculous. Sure, there have been father and sons who have played in the NBA, like Dell and Steph Curry, but there is typically a 20to 30 year gap between their careers. In fact, no father and son have ever played in the NBA at the same time. It has happened occasionally in baseball but for an active sport like basketball, it simply does not happen. For LeBron to make it happen, Bronny would have to actually make the NBA. This is hardly a guarantee for a 12-year-old. But assuming that Bronny ends up being good enough, the earliest he could currently play would be at 19, meaning that LeBron, who is 32, would be at least 39.
The caveat to the ridiculousness is that James seems and has always seemed superhuman. He has an unprecedented combination of skills, work ethic, and luck (in regards to his long-term health) that make it seem completely conceivable to think he might be playing into his 40s. Just look at the opening game of the 2017 NBA season. James kicked off his 15th year in the NBA by leading the Cleveland Cavaliers to a win against former teammate Kyrie Irving and the Boston Celtics. It was a typically dominant performance from the three-time Finals MVP, who casually scored 29 points while pulling in 16 rebounds, and dishing out nine assists.
While other superstars have been plagued by injuries or simply not having it anymore, James has managed to stay one step ahead of father time thanks to his obsessive approach to staying healthy (he spends an estimated $1.5 million each year to keep his body in tip-top shape). Plus, 39 isn't really that old anymore. Dirk Nowitzki is 39 and still thriving in the league. Manu Ginobili and Vince Carter are both solid contributors despite being 40.
So, given his track record and habit of proving his doubters wrong, it's probably not wise to bet against James when he says he will one day foul out in an NBA game against his son. Let's just hope James is playing with Lonzo Ball in Los Angeles by then because getting to see LaVar and James argue over whose son is better is something we all need to see.