Here's How to Watch Tonight's Strawberry Supermoon, Last of 2021
You won't be able to watch the supermoon for another 12 months after tonight, so go rush to check it out.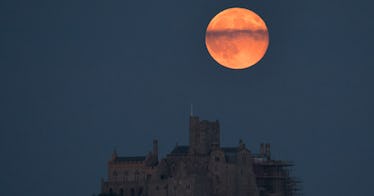 GETTY
The final supermoon of the year, the "Full Strawberry Moon," will rise tonight, June 24. Because it's the last supermoon of the year, it's absolutely worth seeing and, thankfully, unlike meteor showers or Northern Lights, it's viewable basically anywhere. Here's what you need to know about how to see it.
The Strawberry Moon is the first full moon of the summer and gets its name because, in many parts of North America, it's finally strawberry season. (Funnily enough, in Europe, it's called the Rose Moon, because strawberries are native to North America.) Though it's not the year's largest supermoon — May's Blood Supermoon took the cake there — it is the final one. To view it in North America, go outside and look to the skies around your local moonrise time (around 9 p.m. on the East Coast, for example, but other times elsewhere across the country).Thankfully, because it is the moon, you really don't need any special tools to check it out. Just go outside, preferably, but not necessarily, away from light pollution for max viewability, and enjoy the show. As for the next full moon, it will come around the end of July, on July 23, and it's called the Buck Moon. The next supermoon that will grace our skies will be in about a year — on June 14 — so if you want to do some howling at the big ass moon, make sure you do it on Thursday night or else hold your tongue for another 12 months. And, while you're at it, you may as well go pick up a Strawberry Supermoon Doughnut from Krispy Kreme today to celebrate the bright occasion.