Watch The Opening Statements from Olympic Gymnasts at Senate Larry Nassar Hearing
Nassar was previously sentenced to 40 to 175 years in prison, after more than 150 girls and women said he sexually abused them over the past two decades.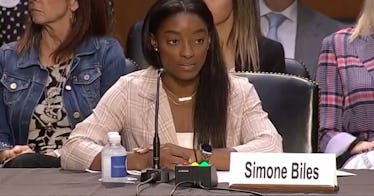 MSNBC
The testimony before the Senate Judiciary Committee looking into the FBI's failure to act when it was notified of former USA gymnastic coach Larry Nassar's sexual abuse claims has begun. Some of the most high-profile athletes involved in the case agreed to testify and their opening statements were read today.
In mid-July, an FBI report indicated that the Indianapolis FBI office delayed the arrest of Larry Nassar and mishandled the case after it was notified he was abusing several athletes. The report claims senior officials didn't take any of the allegations seriously and failed to stop the abuse despite many coming forward with stories. This inaction led to Nassar having the time to abuse dozens of more athletes in the interim, and wasn't stopped until investigative journalism from the Indy Star came forward detailing the abuse.
On September 15, 2021, Aly Raisman, McKayla Maroney, Simone Biles, and Maggie Nichols testified before the senate with powerful statements. The brave woman shared the impact the FBI's inaction had on them in their powerful opening statements.
"I don't want another young gymnast, Olympic athlete, or any individual to experience the horror that I and hundreds of others have endured before, during and continuing to this day, in the wake — of the Larry Nassar abuse," Simone said in her testimony.
"To be clear, I blame Larry Nassar and I also blame an entire system that enabled and perpetrated his abuse. USA Gymnastics and the United States Olympic and Paralympic committee knew that I was abused by their official team doctor long before I was ever made aware of their knowledge," she said to the committee.
McKayla said the FBI agents "committed an obvious crime" in its mishandling of the investigation and accused the organization of illegal activity. "What's even more upsetting to me is that we know that these FBI agents have committed an obvious crime. They falsified my statement, and that is illegal in itself," she said. "Yet no recourse has been taken against them. The Department of Justice refused to prosecute these individuals. Why? Deputy attorney general Lisa Monaco couldn't bring herself to be here today. It's the Department of Justice's job to hold them accountable."
Watch the full testimonies on CSPAN's website, here.
This article was originally published on