Land Near Beaches Crawling With Lyme-Carrying Ticks, Study Says
It's time to add tick-repellent to your beach bag.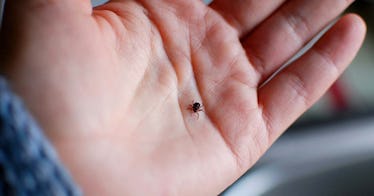 When most people think of ticks, they think of the woods. But black-legged ticks, the species that carries Lyme disease, are just as common in the grass and shrubs found on California beaches, according to a new study. A trip to the beach could easily end in Lyme infection.
The ticks aren't found on the beach itself, but in the vegetation that grows nearby, such as the grass on sand dunes or on bluffs leading down to the beach, according to the study. If a person or dog walks through this area, they may pick up a Lyme-carrying tick.
"I think they've been under our noses all along," Daniel Salkeld, a researcher at Colorado State University who focuses on wildlife diseases and who led the study, told NBC News. "We found heaps of ticks in big numbers. And they're infected with diseases," he said to the Washington Post.
"There is a bias in this country where people think they are only at risk when they go into the woods," Laura Goodman, an infectious disease specialist at the Baker Institute for Animal Health at the Cornell University College of Veterinary Medicine, told NBC. "But really, prevention and vigilance should be practiced everywhere outdoors, and we should be vigilant year-round."
In woodland habitat, 3.9 percent of adult ticks carry the bacteria that causes Lyme disease compared to 4.1 percent of adult ticks in coastal scrub. The study was conducted in California, but ticks can also be found in the vegetation on East Coast beaches.
Salkeld was surprised to find Lyme-carrying ticks near beaches because ticks in California usually pick up the bacteria that causes Lyme from grey squirrels, which don't live near the coast. It's possible that animals such as rabbits or voles are the source of the bacteria.
About 480,000 people per year in the US are diagnosed and treated for Lyme disease per year, according to the Centers for Disease Control and Prevention. Early symptoms include the infamous bullseye rash, although a rash can show up as a different shape. In the absence of a rash, an infected person may have a fever, chills, headache, fatigue, muscle and joint aches, and swollen lymph nodes.
To protect yourself from ticks at the beach, Lia Gaertner, director of education and outreach at the Bay Area Lyme Foundation, told NBC that beach-goers should stay on trails and on the sand and wear light clothing and tick repellent. When you get back from your trip, shower and throw your clothes in a hot dryer. Check your body for ticks several times over the next three days.
"I'm not trying to ruin anyone's vacation or outdoor time," Salkeld said. "Just be aware and get rid of them as fast as you possibly can."