Wisconsin Thinks Letting Teens Work Longer Hours Will Fix Their Labor Shortage
Labor rights activists would rather states raise their minimum wage — and make work better for adults — than push kids to work later and later hours on weeknights.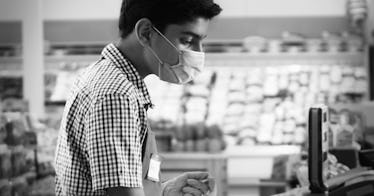 We know that the pandemic has had an impact on many areas of life and business.
One of the most interesting aspects of the post-pandemic economy has been the so-called "labor shortage," which some experts have referred to as more of a general strike where workers who previously accepted certain wage and job conditions are holding out for better pay, safer work, and a more secure way to support their families.
Some private companies have stepped into the negotiation by offering higher wages, paying tuition, and paths to six-figure work at places like Chipotle and CVS. Unfortunately, the federal government has not yet stepped in to do stuff like raise the minimum wage — which has been at $7.25 an hour since 2009. In the absence of a federal mandate, some states have made choices that are a little bit surprising.
Like Wisconsin. The Wisconsin state senate decided to decrease that gap … by allowing children to work longer hours.
According to Business Insider, Wisconsin Senate approved Senate Bill 322, a bill that if passed would allow 14 and 15-year-olds to work until 11 p.m. on some days. This is much later than the current laws allow and "supporters of the bill say it could help plug the state's labor shortage."
(Not mentioned was raising the minimum wage. The state's minimum wage is $7.25/an hour, and hasn't been raised since the federal minimum wage was raised to that rate in 2009.)
Currently, Wisconsin follows federal child-labor laws which state that kids under 16 years old can only work between 7 a.m. and 9 p.m. from June 1 to Labor Day, which is the first week of September. For the rest of the year, kids 16 and under can only work between 7 a.m. and 7 p.m.
This proposed bill will make it legal for kids to work from the hours of 6 a.m. to 9:30 p.m. on school nights, and 6 am to 11 pm on days where there's no school the following day.
The proposed bill would at least not change the federal rules that limit teens to three hours of work on a school day or 8 hours on a non-school day to a maximum of six days of work a week.
Labor rights activists are sounding the alarm that this new bill could cause harm to kids.
Steven Greenhouse, a former New York Times Labor Reporter and author of "Beaten Down, Worked Up: The Past, Present & Future of American Labor," pointed to the fact that studies have shown that letting kids work later hours harms their ability to succeed in school.
"YIKES," he tweeted while sharing a link to an article covering the proposed bill. Adding, "But studies have shown such policies hurt many 14-year-olds' performance in school." He also tweeted out a statement made by Democratic State Senator Chris Larson who feels the "looser child labor laws are not the answer to labor shortage."
He told NBC that the way to go about helping the labor shortage is through "good pay and benefits and safer working conditions are… A child's primary responsibility is their education. They're better off investing in themselves and their future than working longer and later hours as a teenager."
Business Insider reports nearly 3 million people are employed in Wisconsin, which is close to the number pre-pandemic. However, business across the state is still saying they're struggling to find workers and fix the labor shortage.
Now that the bill has been supported by the Senate, the next step is to send it to assembly. Should the assembly agree with the Senate, it would then go to the desk of Gov. Tony Evers to either sign or veto.