Kylie Jenner's Son's Name Might Top Stormi's Name For One "Unique" Reason
Kylie Jenner has always chosen unique baby names — and the name of her 9 day old son is no different.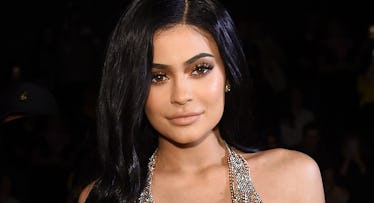 GETTY
Just a few days after announcing the birth of her second child, a son, Kylie Jenner has announced the name of her second baby with Travis Scott.
Her baby boy is only nine days old and though there were many rumors as to what she would name her son — Angel was a strong contender, for example — it turns out that her baby boy's name is one that actually exudes a lot of strength… and continues a general nature theme that appears to be the couple's vibe. And, more than that, it's just as unique and interesting as the name of the daughter they share together, Stormi Webster.
Kylie and Travis's new baby is named Wolf Webster (Webster is Travis's real last name.) At only nine days old, he's certainly got a lot of time to live up to the name that his parents have given him, but what's interesting is how quickly Kylie has released the name of her second baby with the rapper and her long-term partner.
After all, for her first pregnancy, she was completely mum about it and didn't even announce she was pregnant until after she had her baby. While she was slightly more open about this pregnancy, she still clearly kept plenty under wraps, including the gender of the baby (which she and Travis apparently waited to find out for themselves, too.)
And one thing is right: while many thought she might be going for a sky theme in terms of baby names (hence the "Angel" guess) it turns out that Kylie Jenner loves a nature-themed baby name. Stormi and Wolf are both things that happen in the great outdoors, after all.
And, the names she chooses are so much more fun than the typical boring ones like Charlotte or Liam or George. Congrats to the couple!
This article was originally published on