Kylie Jenner and Travis Scott's New Baby's Name Could Be Hidden In Plain Sight
Kylie Jenner might have a theme for her baby names... if this is really the name for baby number 2.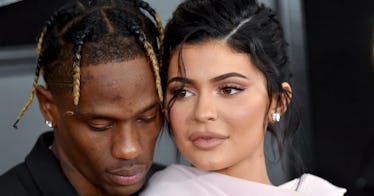 Axelle/Bauer-Griffin / Contributor / Getty Images
There's a new baby in the Kardashian-Jenner family. Kylie Jenner recently welcomed her second baby into the world. Unlike her first pregnancy, in which she kept a complete secret until her baby was born, fans have been eagerly awaiting any details about baby number 2. But if we learned anything from the family the first time Kylie was expecting, they love to give hints. So, of course, people are wondering if the family is doing that again but this time hinting at baby number 2's name. Here's what we know.
On February 6, 2022, Kylie took to social media and revealed that she welcomed her second baby into the world. Joining dad Travis Scott and their 4-year-old daughter Stormi Webster, the new baby was born on February 2, and not a whole lot of details were given beyond that. Except for a blue heart, which points to their baby potentially being a boy. But if we look at the comments – particularly focusing on the inside circle of Kylie – the name could have secretly been revealed already.
Kylie's mom, Kris Jenner, hasn't been the best at keeping secrets, specifically so when it comes to Kylie's babies. During her first secret pregnancy, Kylie was nowhere to be seen on social media. But Kris shared a photo of holiday pajamas that sleuths said confirmed Kylie was pregnant. That, of course, turned out to be true and that's why mama Kris' latest comment has caused a stir.
Under a black-and-white photo of what looks like Stormi holding her new sibling's hand, Kris wrote "Angel Pie." A few comments below Kim Kardashian comments with an angel emoji and a blue heart. And now fans think that might be Kylie's new baby's name: Angel.
That might seem like a stretch at first – everyone calls babies "angel" and why would someone jump to that being the baby's name? But it could be true for two reasons: one, Kylie Jenner could totally have a sky-themed thing going on (Angel, Stormi…) for her babies. And Kris' grandkids – save for two of Kourtney's kids: Mason and Penelope – all have names that are a little bit more unique than, say, George or Charlotte. There's Reign, Dream, Saint, North, Stormi, True, Chicago, Psalm – and looking at that list of baby names, Angel would totally fit right in. And it's super cute.
The chances are pretty strong that we won't' have to wait for the answer for too much longer.