Yes, Kylie Jenner Just Changed The Name of Her New Baby
Choosing a baby name isn't as easy as it may seem, and the reason why Kylie changed her newborn son's makes sense.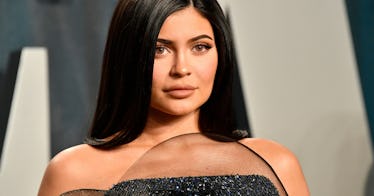 Frazer Harrison/Getty Images
Kylie Jenner and Travis Scott have decided to change their new baby's name. It's been a little over a month since their second child, a boy who was formerly known as Wolf Jacques Webster, entered the world, and Kylie says the name she and Travis originally gave to their baby just doesn't fit anymore.
Deciding on a meaningful name for a baby seems like it's just a regular, no big deal, task new parents just check off the list. But it can be complicated and challenging when you're actually faced with the job. You want to love the name and it needs to feel like it fits. And for Kylie and Travis, Wolf just didn't fit their son.
Kylie took to Instagram Stories on March 21 to share that her son will no longer go by the name Wolf.
"FYI our sons [sic] name isn't Wolf anymore," Kylie wrote. "We just really didn't feel like it was him. Just wanted to share because I keep seeing Wolf everywhere," she added.
There was a lot of speculation before Kylie's son was even born on what his name was going to be. When his birth was announced, people looked for clues on the announcement and thought his name was going to be Angel based on some of the comments from Kylie's family. In the end, Wolf Jacques Webster became his name. Jacques was chosen because it was actually Travis Scott's first name and his father's first name, too, making it a family affair with a unique twist.
After all, given how unique Kylie's first child, 4-year-old Stormi's name is, and the names of Kylie's many nieces and nephews, it wasn't a surprise when they announced his name to be Wolf.
But it's not a surprise she doesn't like the name now either. Kylie was open about being hesitant to share her son's name until she and Travis were sure on the name they had chosen. And now that Wolf doesn't fit, we're sure she wants to feel out a new name that fits better – without the spotlight of the world giving their baby name opinions.
There is one person who is happy that the famous newborn's name is not Wolf anymore — Wolf Van Halen. The musician and son of the late Eddie Van Halen took to Twitter, retweeting an article about Kylie changing her son's name and expressing his relief.
This article was originally published on