Kristen Bell and Dax Shepard Respond to Fake Rumors About Their 'Kinky' Sex Life
Making up stuff about these two is a fool's errand.
by Raz Robinson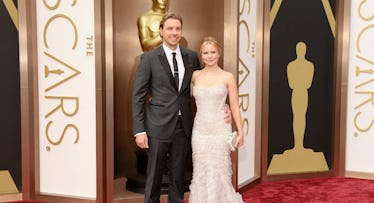 GETTY
In a recent string of hilarious Instagram posts and comments, Dax Shepard and his wife Kristen Bell responded to rumors about their sex life and how they're supposedly into "kinky things like S&M and roleplaying." Previously, they had posted screenshots of an email from Star Magazine suggesting that they got weird in the bedroom to keep their marriage healthy.
While tabloids do what they do, it's funny is that people, in general, are still compelled to make up crap about this couple. Especially considering how open they are about their lives as parents. Bell once admitted to lying to her kids about their birthdays for personal gain. She said she wanted her daughters to have "wild sex" in the future. And she got very real about her miserable morning routine with kids. All plenty of legit fodder for the tabloids if they wanted it.
On this rumor, though, Shepard was quick to call "bullshit." He explained how dumb it sounded to suggest that his wife of all people would try and save their marriage with "horniness." Apparently, it was a little too "desperate" to him since "we all know Bell is a lot more gangster than that."
Bell took a different approach and just joked the whole thing off entirely. In her post, she quipped out that she'd "love to comment, but it's hard to talk with this ball gag in!" And as if they need more fuel for this fire, Bell posted a picture of Shepard grimacing at the camera with a clear plastic bag tied over his head.
This article was originally published on