Kristen Bell Recalls the Time She Needed Her Husband to 'Nurse' From Her Breast
"He was pulling out and spitting into this cup, and I've never been more in love."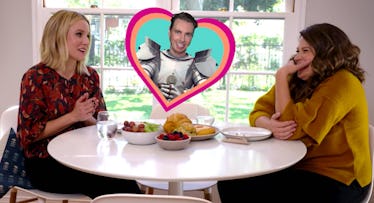 Momsplaining
Over the past few years, Kristen Bell and Dax Shepard have become one of the Internet's favorite married couples and parents. They're down to earth; they love each other; they engage in oh-so-wacky antics. Well, in the newest episode of Momsplaining, Bell's popular EllenTube web series, The Good Place actress recalled the time she needed Dax to nurse from her breast and her husband obliged, no questions asked.
In the episode, Bell is chatting with Scandal actress and new mom Katie Lowes about some of the bizarre things that can happen during breastfeeding, including infections and clogged-up ducts. Bell told Lowes that when she was breastfeeding her kids, she suffered from mastitis, a painful inflammation of the breast which is caused by a build-up of breast milk.
The mother of two could typically manage the pain with antibiotics but during a trip to Atlanta, Bell found she couldn't get a hold of a doctor to refill her prescription. This was just after they had gotten their baby to stop nursing, so Bell was experiencing immense pain and asked Dax to step up and help.
"I said to my husband, 'I really need you to suck this out,'" Bell told Lowes. "We could talk about it, we could be weird about it, or you could just go ahead and nurse.'"
To the shock of Lowes, Bell said her husband immediately agreed to 'nurse' his wife. According to Bell, Dax drew the milk out and then spit it into a cup to help ease his wife's pain. Bell admitted that seeing Dax commit such a strange and selfless act for her made her reach a new level of love for her husband.
"He was pulling out and spitting into this cup, and I've never been more in love in my life," she said.
This article was originally published on