Huge: Krispy Kreme Giving Free Donuts To Vaccinated People
Donut miss this opportunity.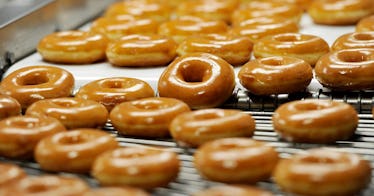 GETTY
If you're one of the 44 million Americans who have been vaccinated, you can celebrate with a donut, as Krispy Kreme announced that it will be giving a free glazed donut to anyone who comes in with a vaccination card.
"Whatever little things brands can do to help make it past the pandemic are good things," Chief Marketing Office Dave Skena told Insider.
The free donut initiative is actually extremely generous. The free donuts are not just a one-time offer. The deal lasts through 2021 and there are no limits to the number of donuts vaccinated people can enjoy. In fact, if you want to, you could grab a free Krispy Kreme donut every day for the rest of the year as long as you bring your vaccination card.
Krispy Kreme is also planning on delivering some well-earned free donuts to support workers and volunteers at vaccination sites across the country over the next few weeks.
"We all want to get COVID-19 behind us as fast as possible and we want to support everyone doing their part to make the country safe by getting vaccinated as soon as the vaccine is available to them," the donut chain said in a release.
And that's not all, the popular donut company is giving employees up to four hours of vacation time in order to get vaccinated, which is similar to what companies like Target and Dollar General are doing for employees as well. Other chains, such as Petco and Kroger, are offering cash or gift cards to employees who show proof of vaccination.
Skena did make it clear that Krispy Kreme employees would not be required to get vaccinated, saying that it's a "personal choice" but that the company wants "to encourage and make sure nothing is standing in the way" of employees getting the vaccine.
"I hope that other brands will see and choose to do something similar," Skena said.