12-Year-Old Is Youngest (And Coolest) Olympic Medalist in 85 Years
What were you doing at 12 years old?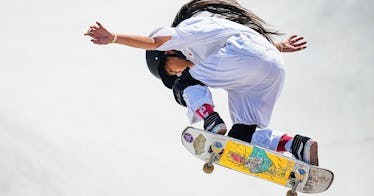 GETTY
All Olympic athletes are impressive. They made it to the top of their sport through perseverance, dedication, and determination. It takes a lot of hard work to level up to compete with the best in the world. It's a feat that's not easy to do, making it even more impressive that a 12-year-old has just become the youngest Olympic Medalist in 85 years. Meet 12-year-old Kokona Hiraki.
Japanese athlete Kokona Hiraki is an Olympic medalist at only 12 years old, taking home a silver in the women's park competition. Ahead of her, bringing home to gold was 19-year-old Sakura Yosozumi, also from Japan. But silver is nothing to balk at, especially since that's not the only feat she conquered.
According to Insider, with Kokona's second-place win, she also took home the title of the youngest Olympic medalist, from any country, in 85 years. She's now tied with Inge Sorenson of Denmark, who was also 12 years old when she won a bronze medal in the 200-meter breaststroke competition in the 1936 Berlin Games.
Adding to that, Kokona also set a new domestic record as the youngest Japanese medalist ever, which was very briefly held by Momiji Nishiya, another skateboarder, who at 13 years old won gold in the street event just last week.
The Olympics this year have seen some wild accomplishments by young teenagers, particularly in the skateboarding category. Sky Brown, who took home the bronze in the same competition with Kokona, is only 13 years old, landing her the title of the youngest person to win an Olympic medal for Britain.
Sky taking home bronze this year was an amazing comeback after a skateboarding injury left her hospitalized with a skull fracture and a broken arm last year. She's thrilled to hold the bronze and already plans to compete in the next Olympics in three years.
"I hope I inspire some girls," she said. "People feel like 'I'm too young, I can't do it.' But honestly, if you believe in yourself, you can do anything."
Each of these young ladies will be ones to watch in the years to come. And we can't wait to cheer these badasses on as they take on the world.