Kit Harrington Preps For Baby Number 2 In The Most Relatable Way Ever
Parents of multiples know what's up.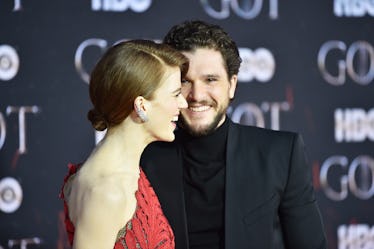 Variety/Penske Media/Getty Images
Kit Harington is a dad to a 2-year-old boy that he shares with his wife, and former Game of Thrones co-star, Rose Leslie. The family of three is about to become a family of four, and according to Harington, their preparations are very different this time than when they were anticipating their first baby.
According to People, Harington shared that he and Leslie are taking a more "practical approach" to preparing for their second baby than they did for their first one.
"We're really practical about it at the moment," he admitted. "And actually, almost too practical," which is a contrast to the "romantic" approach they previously took.
"And this other one, we're like, 'Right, okay, let's get [everything we need],'" Harington continued. "We know how efficient we have to be. Let's get down to parenting."
Speaking with Entertainment Tonight, Harington said that his 2-year-old isn't fully aware of what's about to happen. He's "about to get the shock of his life," he joked when they bring their second baby home.
"I don't know if he's really conceptually understood anything yet," Harington said of his son, knowing what's ahead.
"He's just loving life. My boy loves life," the proud dad beamed. "He charges around, and I think he's going to be a great older brother. It's just really exciting."
And the proud dad is happily along for the ride and recalling a conversation with his mom that frames his parenting.
"My mum says that she never remembers us being little kids or the early parenting much because you're so present in it," he said. "And I think that's what kids allow you to be, is incredibly present in the moment 'cause you've got no choice."