2021 Kindergarten Classes Will Be Massive. Blame COVID
Experts are sounding the alarm on what will be a massive kindergarten class due to COVID-19 related redshirting.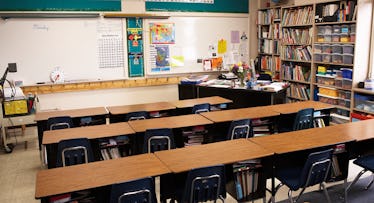 In April of 2021, Fatherly published an article about what the kindergarten class of 2021-2022 might look like come fall. Based on preliminary reporting from outlets such as K-12 Dive, experts were predicting that the kindergarten class of 2021-2022 would be a "kindergarten bubble" defined by not only their massive class-size but also their wide range of skills and ages (think: four to six years old). The reason why? Pandemic redshirting.
That parents held their kids back in pre-kindergarten during the pandemic school year of 2020-2021 is a totally rational and understandable choice, but it means that there might be a massive cohort of kids walking into kindergarten classrooms for the first time.
And now, according to Hechinger Report, there may be another type of redshirting on the hands of teachers, parents, and the kids themselves. Some families are reportedly considering repeating kindergarten, making what will probably be a big class even bigger.
Enrollment of Kids in Kindergarten Was Down From 2020-2021
In April, Fatherly noted that in many states, the enrollment of kids in kindergarten was down by single and double-digit percentage points; nationally, kindergarten enrollment was down 16 percent in the 2020-2021 school year, amounting to thousands and thousands of children.
The Hechinger Report notes that one poll of 60 school districts in 20 states had an average enrollment drop of 16 percent; Los Angeles Unified School District reported a drop of 6,000 kids or 14 percent of kids for kindergarteners alone. In Virginia, per the same publication, enrollment dropped by 13 percent. In Kansas, per AP, kindergarten enrollment dropped by 9 percent.
Of Those Who Went, Some Parents Want Their Kids to Repeat Kindergarten
In other words, there's going to be a double whammy of experiences: one, parents who pulled their children out of kindergarten altogether or kept them in pre-k for an extra year will be walking into the classroom come September of 2021; and many parents whose children did go to kindergarten last year will try to have their kids repeat a grade for a fuller, more hands-on educational experience as COVID-19 wrecked many kids abilities to learn and play fully. Add that to the normal cohort of kids who would be entering kindergarten anyway and… you've got an interesting soup.
A Double Whammy: Pre-K Enrollment Was Down, Too
And then there's the fact that a lot of kids who are entering kindergarten this year didn't go to preschool at all during COVID. Speaking to AP, Steven Barnett said, "The job of the kindergarten teacher just got a lot harder," a statement backed by research where he found that while before the pandemic, 71% of kids were in preschool classes whereas during the pandemic, only 54%. The study also found that poor kids were the least likely to go to pre-k in person.
Either Way, Kindergarten Will Be A Mess
In any case, kindergarten teachers, administrators, and parents have a mess on their hands. No one can blame parents who are concerned about the education their children got in kindergarten last year nor can they be blamed for pulling their kids out of the classroom during a deadly pandemic that can kill children.
At the same time, states are bracing for a massive class cohort at different age groups and completely different skill levels — from kids who skipped pre-k altogether, to kids who did pre-k for two years, to kids who are repeating kindergarten after a bad COVID year of learning.
AP notes that Minnesota's St. Paul school district is already planning on having nearly a quarter more kindergarteners this year than they did last year. A Florida district expects about the same.
Some school districts and states are trying to pass bills to make it more difficult for parents to redshirt their children or have them repeat kindergarten, to ensure that those who are held back have to go to a hearing to plead their case. Whether or not that will help kids is unclear.
In the meantime, the kindergarten class of 2021-2022 will be one of the largest classes teachers across the country have seen yet. But just how large it will be won't be known until school doors (thankfully!) open in the fall.