Kim Kardashian's Simple Birthday Tradition Is Something Every Parent Can Do
It only takes a few minutes, doesn't cost anything, and will preserve the memories of what your young kids are really like.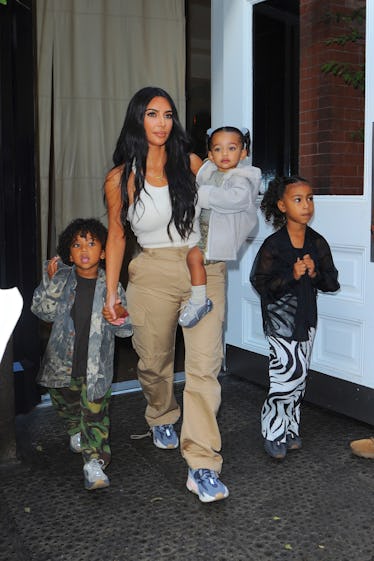 Robert Kamau/GC Images/Getty Images
Kim Kardashian recently shared a birthday tradition that is simple, cheap, and something that can preserve the memories of what the kids are like when they're young. Kardashian is not the first to espouse the simple act of writing an annual letter to your kids on their birthdays — but the world's most well known mom is most definitely onto something.
When we're in the thick of raising our kids, there are so many moments and memories that we say we'll never forget. But the reality is that as time goes on, memories aren't as reliable. Which is why it's so essential to put your thoughts down on paper. It is a benefit to both the parent — remembering that moment — and the kid, who can see that their parent made decision on who they were at the time, rather than who they have become.
Kardashian, who has four kids — North, 9, Saint, 7, Chicago, 5, and Psalm, 4 — recently sat down with Jay Shetty for his podcast "On Purpose," where they spoke about a range of topics in their hourlong conversation, from fame and happiness to parenting challenges and personal growth.
About 45 minutes into their chat, Kardashian touched on her desire to be a really good mom and the importance she places on doing what's right for her kids. And during her conversation with Shetty, Kardashian shared a smart trick that he does to hold on to those little moments.
"So every year, I write each one of my kids about a four- or five-page letter on their birthday about what the year was like," she shared.
In the letter, Kardashian writes about "who their friends are, silly words they're saying, their favorite foods — all the silly things that they do, and a little journey of what the year is like," Kardashian continued.
"It's so fun to see from the first year to now," she said. "One of [my kids is] almost ten years old, and I know that they'll appreciate this."
You can listen to the full podcast featuring Kardashian anywhere you listen to podcasts or catch the full conversation on YouTube.