Kim Kardashian Won't Drop "West" From Her Name. There's a Surprising Reason Why
For some, a name isn't *just* a name, and Kim's doing it for her kids.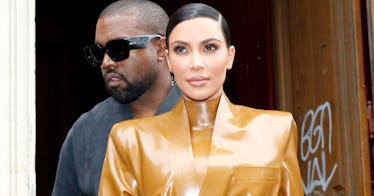 GETTY
Love her or hate her, Kim Kardashian West loves her kids.
So as she walks through a challenging divorce with Kanye West, her husband of seven years, she's putting the needs of their four children first. And for her, that means several different things—one of those being her co-parenting relationship with Kanye and his name.
This week, Kanye West filed court papers, seeking a legal name change for himself. According to BuzzFeed, Kanye wants to change his name to "Ye" – no middle name, no last name, a la Prince. Of course, fans and critics wanted to know his soon-to-be ex-wife thought about the name change. Was Kanye's decision a reflection on his relationship with Kim at all? Was she going to change her legal name back to just Kardashian if he is ditching his last name?
her