Kim Basinger Visited Kids at Hospital Dressed as Batman's Vicki Vale Years After Movie
"Anytime you can come in and make their world better, for even an hour or two, that will change their lives and it will change yours."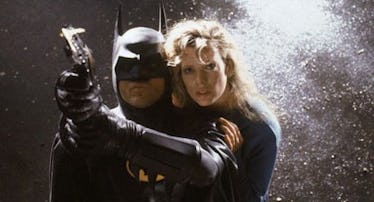 Sunset Boulevard/Corbis Historical/Getty Images
We live in the era of Marvel movie dominance but Iron Man and the rest of the Avengers owe a huge debt to the Dark Knight, as the first superhero movie to truly put caped crusaders on the cinematic map was Tim Burton's Batman. The 1989 film was a monster hit, so much so that Kim Basinger, who played Bruce Wayne's love interest, Vicky Vale, recently revealed that she would visit terminally-ill kids in the hospital dressed as Vale years after the movie came out.
"After Batman, I went to children's hospitals like you wouldn't believe and I went for years," Basinger told The Hollywood Reporter. "I saw kids die and I went through the journey with their parents, but I would always go in as Vicky Vale."
Basinger explains that her presence as Vale always lifted the kids' spirits and that she found a clever way to include the masked vigilante in her visits.
"We would have these wonderful conversations and I would say that Batman was waiting on me downstairs in the Batmobile when we finished," she says. " I get chills just thinking about that. Anytime you can come in and make their world better, for even an hour or two, that will change their lives and it will change yours."
It's awesome that Basinger went out of her way to make so many kids happy and it speaks to the power of the film that people were still excited to see Vicky Vale years after Batman's release. And these kinds of visits are a tradition that has remained strong in the Batman cinematic family, as Christian Bale visited several victims of the shooting that occurred in Aurora during a midnight screening of The Dark Knight Rises, the final film in Christopher Nolan's Batman trilogy.
This article was originally published on