Kids Nagging Parents About Eco-Sustainability Is Working
Parents admit their kids know about protecting the environment, and they're listening to their suggestions.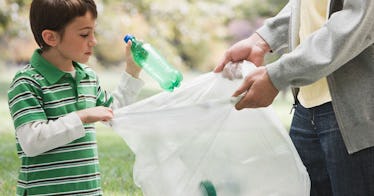 We know that climate change is a serious pressing issue around the globe. And more needs to be done to address the severe threat. We know there are some serious changes that we need to face sooner than later. And the whole task in front of us can feel too large and overwhelming. But, thankfully, kids are already making a difference at home and getting their parents on board.
A study conducted by OnePoll on behalf of Sainsbury's asked 2000 parents how their kids are talking about eco-sustainability. And it turns out, kids who nag their parents about changing some of their harmful habits impacting eco-sustainability are getting their parents to change their practices.
The data shows that more than 25 percent of parents polled said their children have encouraged them to recycle more. Not only that, but 25 percent of parents also reported that their kids had scolded them for wasting food, leaving the taps running, or leaving the room with the lights on. And parents are making adjustments because of it.
"It's encouraging to see that kids are expressing an interest and sharing thoughts on how we can all care for the planet better," a spokesman from Sainsbury's said.
Two-thirds of parents admitted to being corrected by their kids on how to take care of the environment better. Yet, surprisingly, an additional 38 percent of parents shared that their kids know more about being eco-friendly than they do.
This is great because nearly seven in ten parents said they wished they knew more about living a more eco-friendly and greener life. And parents are taking their kids' suggestions and implementing them.
Some of the ways kids are encouraging their parents to do more for the environment focuses in on mealtime. These changes include keeping food waste to a minimum, using up any meal leftovers, and growing their vegetables at home.
Youth climate activists, including Greta Thunberg, Adriana Calderón, Farzana Faruk Jhumu, and Eric Njuguna, have been urging adults around the globe to pay more attention. And to take the climate threats more seriously.
"The current generation of adults, and those that came before, are failing at a global scale," they warned in an essay earlier this summer. "We are in a crisis of crises. A pollution crisis. A climate crisis. A children's rights crisis. We will not allow the world to look away."
And this study shows that taking charge of climate issues can start small – including a child reminding their parent to put the soda can in the recycling box instead of the garbage can.