COVID Will Likely Make 300,000 Kids Lose Health Insurance
The rates of uninsured children have been climbing since 2016, but COVID-19 speeds up a worrying trend.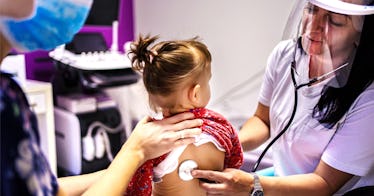 According to a series of new reports, one from the Georgetown University Health Policy Institute's Center for Children and Families, and another from the Urban Institute, the state of health insurance for American children is bleak — and has been getting worse since President Trump took office in 2016. The past two years have represented a rapid expansion of the uninsured rate of American kids, and 2020 is expected to be even worse, with some 300,000+ kids expected to lose their insurance due to massive unemployment and the oncoming economic recession. After all, millions of American parents lost their jobs because of the COVID-19 pandemic, and millions of those American parents as a result lost their health insurance, which in America, is tied to employment. Since Americans can usually only access health insurance when they have a job that offers it, losing their job represents a massive blow to their family — and for their kids, it means they can't be insured either.
In fact, just as President Trump took office, the rate of uninsured children hit a historic low of 4.7 percent, or 3.6 million uninsured children, as a result of Medicaid expansion, the bi-partisan and beloved Children's Health Insurance Program (CHIP), and expansion of the Affordable Care Act (the ACA), which all became ways to increase insurance rates as private, employer-sponsored insurance has become unaffordable for working parents with dependents. This was good news.
But in every single year following, the rate of uninsured children began to slowly increase, despite a booming economy and record low levels of unemployment. In 2017, the rate of uninsured kids began to rise and by 2019, had jumped up an entire percentage point to 5.7 percent of kids, or 4.4 million American kids, being uninsured — amounting to some 726,000 losing access to health insurance over two years. By that point in 2019, any gains made by the expansion of the Affordable Care Act, which helped lower rates of uninsured folks around the country but also of children, had been erased.
The largest increase (before 2020, that is) of uninsured children happened between 2018 to 2019. 320,000 children lost their health insurance in that year alone — the largest gain in uninsured children in over a decade. And this is at a time when people were hiring, the market was great, and the economy was booming. But of course, because of the pandemic, and because of the millions of jobs lost since mid-March (840,000 more workers filed for unemployment insurance last week alone) the Brookings Institute suggests that at least 300,000 more children will lose their health insurance this year, leading to a total gain of over one million American kids without health insurance by the time 2021 rolls around, nearly 5 million uninsured American kids.
Of course, these losses in health insurance for kids are not evenly spread out. 33 percent of the insurance losses for kids from 2016 to 2019 came from the state of Texas alone, representing nearly 250,000 Texan children without access to health insurance; and Florida accounted for 55,000 of those losses in health insurance, making up nearly half of all insurance losses during the Trump administration. Over half of the states in the country experienced a loss in insurance rates for kids from 2016 to 2019; the only state that insured more children as the years have gone on is New York State.
These gains still don't account for the walloping job losses due to the pandemic, which could erase New York's progress and make the matter for children in states like Texas and Florida far direr. The children who were affected the most by this trend were White and Latino children. At a time when a deadly pandemic is sweeping the nation, and millions of Americans are incurring health care costs that could bury them while also losing their jobs that help pay for those costs through insurance and salaries, this rise in uninsured children is indefensible.
This article was originally published on