Kids Go Viral On TikTok With Pro-Level Football Plays
The two kids who posted the video have since "fielded" offers from the Steelers, the Browns and the Chiefs. Unfortunately, child labor laws might get in the way.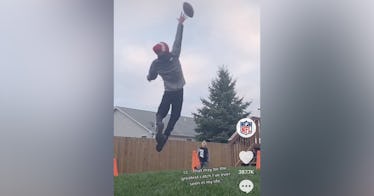 When the "..footballbros" on TikTok downloaded the app and started making videos of football plays, the two kids, who appear to be in grade school, clearly probably didn't expect to go viral within just three short videos and a handful of days.
But the duo, who somehow have 836,000 TikTok followers and 12.1 million likes on their mere three videos, has blown up on the platform after NFL teams and even the official NFL TikTok took notice of the short, but awesome video of the two kids.In the videos, the first of which was posted two days ago but has since gotten 8.3 million likes and been shared over 72,000 times, two boys in their backyard play a game of catch with the good old pigskin. But it's more than just a regular game of catch. The first boy throws a perfect, stunning spiral (which the video captures in beautiful slow motion) a little bit high and the other boy launches to grab it, clinching the football by the tip of his fingers. It rivals professional NFL plays that have made TV and viral moments, except its just two kids, playing in their backyard, having a good time.
Well, the NFL, and even a few football teams, have since noticed. The TikTok account for the Kansas City Chiefs commented, "OK WE SEE YOU," to which one of the "..footballbros" said, "Recruit me?" The Pittsburgh Steelers TikTok responded, "Are you ready to be drafted?" while the Cleveland Browns wrote, "NICE CATCH." The Baltimore Orioles wrote, "Just some kids having a blast, living the dream" and the Carolina Panthers wrote: "Sheesh kid." Even Northface — yes, the jacket brand that has a TikTok — said, "Great catch." The official NFL TikTok then "stitched" the video — which is when you take a video from one user and add your own flair to it by editing the audio or splicing it with your own video — with audio background of two NFL football commentators saying, "That is the greatest catch I've ever seen in my life… There's so much to talk about with this kid."
While the videos have yet to get the two grade-school kids, who are so far basically unknown, any official NFL offers, it is great to see the internet spontaneously come around two kids who basically serendipitously caught video of some epic catches and provide support. Hopefully, the two kids will keep posting more awesome videos of their plays — and the community can come around them and their love of the sport.