1 in 5 Parents Admit Their Kids Eat More Fast Food During Pandemic
With less time and more to do, parents are turning to quick meals.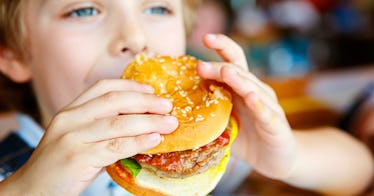 With the pandemic, we had a whole lot of change overnight. Parents felt the strain between keeping their job, helping their kids through remote school, and keeping everyone healthy. Time has been tight, and a new poll shows that parents don't have as much time to cook because we're juggling a lot right now. As a result, parents have been relying on fast food. Here's what you need to know.
According to the University of Michigan Health C.S. Mott Children's Hospital National Poll on Children's Health, 1 in 5 parents reported that they had started to feed their kids fast food more often than they did before the COVID-19 pandemic.
More than 2000 parents who had at least one child between the ages of 3 and 18 participated in the survey. It revealed that parents are struggling with mealtime due to the pandemic.
"The pandemic disrupted many family routines, including where and what they eat," said Dr. Gary L. Freed, the poll's co-director and a pediatrician at C.S. Mott Children's Hospital, in a statement. "We know families' lifestyles can impact children's diets, and we looked to see how the pandemic may have changed their eating habits."
The poll also revealed that while half of the surveyed parents reported to having home-cooked meals more often, 1 in 6 parents admitted their kids have since started to eat fast food at least twice a week.
When asked why there's been an increase in fast food meals, approximately 40 percent of parents shared they've been too busy to cook. An additional 20 percent said they were too stressed to be able to cook home-cooked meals.
Nearly all parents who participated in the survey acknowledged that fast food is "unhealthy" for their kids. However, 4 out of 5 parents believe it's OK in moderation. Seventy-five percent of those polled agreed that when stressed for time, a good family option for mealtime is fast food.
And the choice of turning to fast food it comes down to money, too. Twenty-four percent of parents said that they felt fast food is less expensive than making meals at home, and 1 out of 3 parents said fast food was a good value for their money.
"Parents mostly acknowledge that fast food isn't an ideal choice but see it as an acceptable 'sometimes food,'" Freed said. And while we all know it's not ideal, Freed suggested parents, even if they have to turn to fast food, being mindful of what's on the menu can make a big difference.
"Parents should consider using nutritional information to help their kids learn how to make healthier choices," Freed explained. "Trying to make those meals even a little bit healthier can have an important impact."