252,000 Kids Got COVID-19 Last Week as Classrooms Reopen
Kids' hospitalization rates are up 308 percent from this time last year.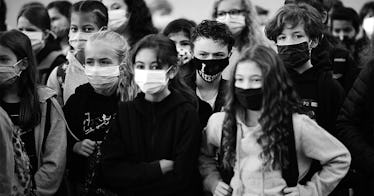 GETTY
Across the country, millions of students have returned to classrooms. At the same time, there's been a surge of kids testing positive for COVID-19 as the Delta variant targets the unvaccinated.
According to a new report released by the American Academy of Pediatrics (AAP) and the Children's Hospital Association, positive cases of COVID-19 among kids are surging, and it's just the first week of school. "As of September 2, over 5 million children have tested positive for COVID-19 since the onset of the pandemic," the report states.
"About 252,000 cases were added the past week, the largest number of child cases in a week since the pandemic began." In other words, the share of COVID-19 cases in children is growing — and kids are testing positive at higher rates than they have since the start of the pandemic.
The report continues, outlining that even though cases fell during the earlier parts of the summer, that's no longer the trajectory. "Child cases have increased exponentially, with over 750,000 cases added between August 5 and September 2," the report states.
Some states are doing worse than others. Particularly the southern states, which account for more than half of all the new pediatric cases, according to the Centers for Disease Control and Prevention. In Texas, where mask mandates have been banned in schools (though some districts are defying these orders), more kids are hospitalized with COVID-19 than any other state in the country.
That's a trend across the country, though not everywhere is as bad as Texas. The data shows that hospital admissions for pediatric cases per 100,000 people are at one of the highest it's ever been in the pandemic. That number is up 600 percent since the Fourth of July, federal data shows. The rate of kids being admitted to hospitals is close to 308 percent higher than this time last year.
"We're calling this the fourth wave … but it has certainly been by far the most impactful surge — really hitting children and adolescents," Dr. James Versalovic, pathologist-in-chief at Texas Children's Hospital, told ABC News.
While severe illness and death are still rare in kids battling COVID-19, both organizations warn that we still don't have enough data on the potential long-term consequences of the virus on kids. In the meantime, mask up yourself and your kids and get vaccinated.
This article was originally published on