Kids COVID-19 Cases Are Rising "Exponentially." It Could Get Worse
In one Florida county, kids make up the majority of new COVID-19 cases.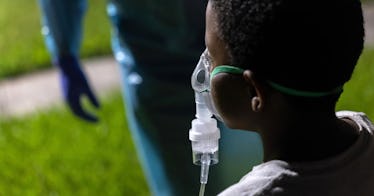 GETTY
The number of cases of kids battling COVID-19 in the United States has "reached levels not seen since the winter surge," according to CNN. That's bad enough, but this winter is likely to be even more relentless than the last because the more contagious Delta variant has taken hold. As kids re-enter school buildings, they have far more opportunities to get sick.
The number of cases of kids infected with COVID-19 is rising "exponentially," per CNN. And according to data from the American Academy of Pediatrics and the Children's Hospital Association, there's been "more than a four-fold increase in the past month" of kids coming down with COVID-19.
And when they say "exponentially," they mean it. For one week close to the end of July, for example, the number of kids with COVID was around 38,000. Now, at the end of August, there are more than 180,000 new cases involving children per week.
The best way to prevent the continued spread of the Delta variant is through vaccinations and public health measures like social distancing and wearing masks. These measures are necessary to keep the spread from not only overwhelming the healthcare system but also to keep people from becoming disabled from the disease or dying.
In the first three waves of the pandemic, those most at risk of severe disability or death were older folks. It was thought at the time that kids who got infected were largely asymptomatic or able to ride out manageable symptoms at home. And although kids are largely fine when they do come down with COVID, as they regain public lives — going to see friends, going back to school, and coming into contact with more people — they have begun to get more sick as the Delta variant rages across the United States.
Children are now landing in hospitals and the ICU, and some must be flown to neighboring states since bed capacities are strained. In Orange County, Florida, kids currently make up the largest share of new COVID-19 cases. Pediatric ICUs are running out of beds across the country. With schools open, and with kids under 12 not yet eligible for the vaccine, it's become a critically dangerous time for children and a source of great worry for parents.
In Florida's 15 largest school districts, at least 11,851 students have tested positive for the virus, "amounting to more than 14,461 confirmed cases since the school districts started keeping track of cases for the 2021-22 school year," a CNN analysis shows. This report comes at a time when school districts in the state are in open revolt against Governor Ron Desantis' anti-mask policies that put children in harm's way.
One simple way to protect children, who are becoming an increasing target of COVID-19? Mask and vaccine mandates, wherever possible, and especially in classrooms. For example, Los Angeles Unified School District has strict mitigation measures in place, including mask-wearing. In doing so, they've been able to keep COVID infection rates under 1 percent since the start of the school season, according to CNN. Masks are required for all staff, students, and visitors on top of a testing initiative, showing just how much of a difference these efforts make.