Kid Goes Viral With Song "I Wonder What's Inside Your Butthole?"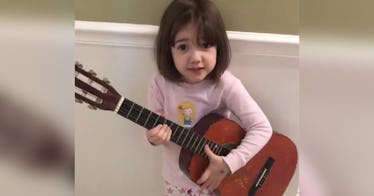 It's a question that has been plaguing philosophers for centuries, but one 8-year-old has dared to figure out, once and for all, what's actually inside your butthole.
Recently, 8-year-old Jolee Rieffel-Dunn has had a tantalizing taste of viral fame overnight after penning a song that has since captivated the internet. Jolee wrote a powerful rock ballad called "I Wonder What's Inside Your Butthole" when cooped up with her parents in Los Angeles this weekend. As kids often do, Jolee was attempting to distract her parents from bedtime — an admirable pursuit — and came up with the smash hit that features lyrics such as "Maybe there is astronauts/Maybe there is aliens/All inside your butthole." Pressure does often make the best artwork, after all.
When her mom, Lisa, shared the video online, the tweet took off, with some 328,000 people liking the tweet and dozens of thousands of retweets. The short song, which clocks in at around 20 seconds, has been viewed 5 million times. But that's not all — it's also already been covered by musicians. Radnor & Lee, the folk duo fronted by Josh Radnor (best known for playing Ted Mosby) and Ben Lee, did an extended cover of the track from two different locations, adding a beautiful folk spin to the thoughtful lyrics that include "What's inside your butthole? I always wanna know." Other small, indie artists took to Soundcloud to post their covers of the instantly famous track.
What's next for the 8-year-old star? A Grammy? A Tony? A long and storied career in songs about buttholes? While we can't predict the future, we can certainly enjoy the tunes for now. Mom Lisa noted in an interview with Buzzfeed News that although Jolee is sort of aware that the song is a huge hit, she only cares about one person's opinion: Doja Cat. (Doja Cat might be best known for her viral hit a few years ago, 'B**** I'm A Cow' which has a similar, ridiculous sense of humor about it, while also being a really fun song.)
Not only are there covers of the track, but Twitter users have also started remixing the track. So tune in and enjoy.
This article was originally published on