You Could Get Paid To Vaccinate Your Kid — Really
Several cities and states are offering financial incentives for parents to get their kids vaccinated.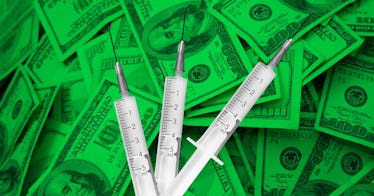 This week, kids between the ages of 5-11 were approved to begin getting vaccinated against COVID in the United States and to sweeten the deal, several states and cities are offering up financial incentives to encourage parents to get their kids vaccinated as quickly as possible.
In New York City, kids can claim $100 if they receive the vaccination or get tickets to certain attractions like the Statue of Liberty. Mayor Bill de Blasio said that he hopes it will help families prioritize their kids receiving the Pfizer vaccination, noting that "everyone could use a little more money around the holidays."
"But, most importantly, we want our kids and our families to be safe," de Blasio said.
There is a similar reward program in Chicago, as kids who receive the shot at Chicago Public Health events or clinics will receive a $100 gift card. And on November 12, the Chicago school district will be closed for Vaccination Awareness Day, giving parents the chance to get their kids vaccinated without having to worry about missing school.
In San Antonio, kids between ages 5-11 who get vaccinated could receive a $100 gift card to supermarket chain H-E-B, while in Louisiana, kids are now eligible for Louisiana's Shot For $100 vaccine incentive program.
Only time will tell if these types of incentive programs will make a difference in getting skeptical parents to vaccinate their kids. There has been notable skepticism from parents when it comes to giving their child the vaccination, even as the rates of children being hospitalized due to COVID has risen over the last few months as kids across the nation have returned to school.
There is also the question of whether or not vaccines could become mandated for kids to be able to attend school in-person, as some public health experts believe that is the safest way to ensure that COVID does not continue to spread.