Dad's Reaction to Daughter Drinking "Mimosas" in the Tub Goes Viral
"We all get stressed out sometimes, and we need to eat a cheese plate and drink mimosas."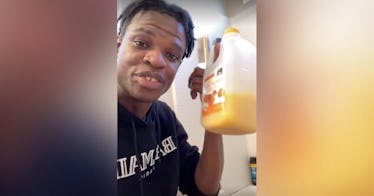 This year we've had to focus a lot on self-care. With so much spiraling out of our control with the pandemic and all the changes that came with that, taking care of ourselves has become more important than ever. As important as it is, it's not always easy to carve into our daily routine, but one little girl has embraced her version of self-care, including mimosas, and dad's reaction to it has gone viral. Here's what happened.
Brandon Rainwater walked in and saw an elaborate self-care set up his 11-year-old daughter had put out for herself. She had a long day at school, and self-care was at the top of her to-do list when she got home.
"I think maybe my little girl had a bad day at school today, or maybe she's just got a lot on her mind — I mean, stressful day for an 11-year-old, I guess," Brandon said on a TikTok video showing the scene his daughter created in the bathroom. "I heard the water running, so I came up here to turn the water off. This is what I see — let me show y'all."
While trying his hardest to not laugh, the dad showed off the cheese and candy plate she had et up for herself along the side of the bathtub. The tub was full of bubbles, but it was another thing she had laid out for herself that made Brandon. The millions of people who have watched the video giggle.
"But this is where I don't know what's going on," dad said. "Who — I mean — who showed my little girl how to make mimosas?! Look at this: sparkling grape juice and orange juice. You know, if you mix them together, that's mimosas! Who's been drinking mimosas with my little girl?"
Of course, it wasn't real alcohol – dad pointed out that the bottle was sparkling juice, and there was an empty one on the soap shelf, too. She was clearly living her best life, taking care of herself after a long and hard day. And to be fair, we could all learn a thing or two from her.
"I ain't gonna say nothing. I'm gonna let her do her thing," he said. "We all get stressed out sometimes, and we need to eat a cheese plate and drink mimosas."