Kia Recalls 410,000 Vehicles in the U.S. — What to Know
Kia is recalling 410,000 vehicles that have potential airbag issues.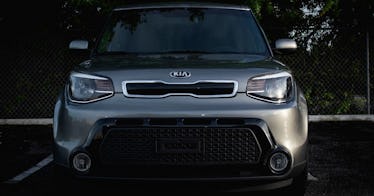 Johnnie Rik / Shutterstock
On January 25th, Kia, the auto-maker of affordable, largely family-friendly cars based in Korea, announced a recall of more than 410,000 vehicles in the United States. and need to know what models and years of Kia have been recalled, and how to get your vehicle serviced so you can get back on the road safely, look no further.
What Kia Models and Years Were Recalled?
The recall, which can be looked up on the Kia website, as well as the National Highway Traffic Safety Administration website (NHTSA), includes 2107 Kia Forte Koups, 2017 and 2018 Kia Fortes, 2017, 2018 and 2019 Kia Sedonas, 2017, 2018 and 2019 Kia Souls, and 2017, 2018, and 2019 Kia Soul EVs.
The recall was made because there were safety concerns about the airbags potentially not deploying in car crashes. The NHTSA said that "The Air Bag Control Unit (ACU) may contact a memory chip on the printed circuitry board and damage the electrical circuit. Circuit damage may result in deactivated airbags that will not deploy in a crash."
Kia claims that there were 13 customer complaints, and 947 warranty claims, in regard to the airbag issue, but that no injuries or crashes had been reported.
Here's How to Get Your Kia Serviced If It's Been Recalled
If you have one of the Kia models that is being recalled, per the NHTSA website, you can contact Kia's customer service line at 1-800-333-4542.
You can also take the vehicle to your local Kia dealer to get the Air Bag Control Unit inspected and potentially replaced or repaired for free — Kia says that a software update may be needed in order to repair the ACU problem.
The recall number for this recall is SC226.
You may also call the NHTSA hotline at 1-888-327-4236. Owners of the Kia models can expect recall notification letters to be mailed to them by March 21, 2022.