Kevin Bacon Recalls Accidentally Locking His Infant In A Car
"To say I lost my s--- would be the understatement."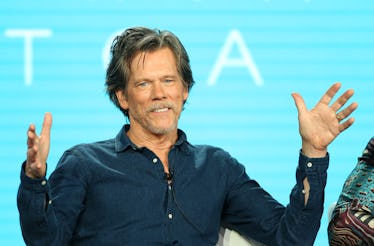 Variety/Penske Media/Getty Images
Kevin Bacon is sharing a story about a scary moment when he was a new father. The actor, who visited the Jimmy Kimmel Live show, opened up about the time he accidentally locked his new baby in the car and how a "superhero" was in the right place at the right time and saved the day.
Sitting down with Kimmel, Bacon recalled an experience he had early in his role as a dad while filming the cult-classic movie Tremors. He and his wife, Kyra Sedgwick, were staying at a hotel in Los Angeles.
"It was the Chateau Marmont here in L.A., which at that time was one of the few hotels that would allow us to bring the dog," he shared. "We had rented a car, and I don't know, I was scattered. I wasn't really thinking."
He continues, "[I] pulled up to the valet at the hotel, jumped out of the car, slammed the door, car still running, keys in the car, windows up, baby still in the car. And my little guy was, I think, 4 days old at the time. So to say I lost my s--- would be the understatement."
Thankfully, the hotel's valets stepped up with a very fast solution. He knew the safest method to get into the car, quickly and without harming the newborn — through the small triangular window on the car's doors.
"This amazing, heroic dude, it took him literally three seconds," Bacon said. The valet at the Chateau Marmont then "wrapped a towel around his fist. Bam! Right through that window."
"Punched through it. Took it right out. I was like, 'Wow, that's some superhero stuff right there," Bacon recalled. Adding that it took the valet "literally five seconds" to reach his newborn after locking him in the car.
"I was probably not the first jackass that ever did that, I'm thinking," the actor said.
Bacon is most definitely not the first parent to have locked his kid in a car. And especially when the child gets left in a hot car — forgotten or thought to be safe — it can be very dangerous. The National Highway Traffic Safety Administration (NHTSA) in fact has has for years run a campaign to "Prevent Hot Car Deaths" as more than 900 children have died in hot cars in the U.S. since 1990, with an average of 38 kids dying annually.
The NHTSA reminds parents to take proactive steps you can take in the midst of new parent exhaustion to help you remember you have a baby in the car — including leaving something in the back seat with your child, like your purse or wallet so that you have to go back there before you leave your car, or building in the habit of checking the back seat before you leave, among other tips.
Take a listen to the full interview on YouTube.