Kentucky Passes First-Ever Law To Establish Joint Custody as Standard in Divorce Cases
The newly-passed law has received almost unanimous support across the state.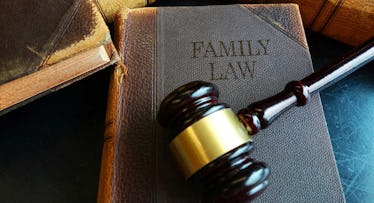 Getty Images
Kentucky is set to become the first state in America to establish joint custody as the standard in divorce cases, allowing both parents to have equal access to their kids after the marriage ends. Most states have laws in place that favor the mother, as moms have historically been the primary caregiver. As fathers have become more active parents, however, the concept of shared time as the default in divorce cases has continued to gain support.
The Kentucky law will officially allow both parents to have an equal chance at receiving partial or full custody of their kids, depending on the court's discernment. Erin Wilkins, a divorce attorney in Northern Kentucky, told WLWT5 that while the practice of joint custody has been an unwritten rule in the state for the past few years, it will still be beneficial to have an official law in place.
"If you are an attorney practicing in Boone, Kenton, or Campbell County, [joint custody] is something that judges here have been doing for years," Wilkins said. "I have been practicing for about 14 years and feel like most of that time I have been doing 50/50 time and joint legal custody for parents."
Matt Hale, chair of the National Parents Organization of Kentucky, has traveled the state talking to parents about the new law, explaining that people from both parties have expressed their support. "We knew Kentucky's new law would be well received," Hale said. "But it was even more popular than we expected."
This article was originally published on