Ken Jennings Might Actually Become The New Alex Trebek
The Jeopardy superstar just announced he's joining the show as a categories presenter.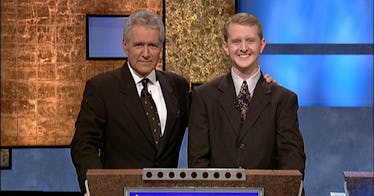 GETTY
Fine, I'll say it: Ken Jennings is an American hero. The genius of Jeopardy fame — who approached what accounted for viral fame in the early aughts when he became the highest-earning American game show contestant of all time and smashed through previous records to become the man with the longest winning streak on Jeopardy with 74 consecutive wins — has been one of the few American television personalities who only becomes more good over time. And now, it looks like Jennings might be being groomed to become the next Alex Trebek, as he just announced on September 3 that he would be joining the Jeopardy team, hosting the show alongside the veteran host who saw Jennings rise to fame over 15 years ago.
On September 14, Jennings will join Trebek in an all-new season, but he won't take over as the host of the show. Will he be a co-host? Will he only be in charge of the Daily Doubles? Not yet! Jennings will present entire categories of questions and, while Trebek has assured audiences that he'll still be the host of the show, Jeopardy super-fans have to be pinching themselves right now.
After all, Jennings is more than just a game show superstar. He's also a really funny and nice guy who has managed to stay in the public eye and only become more and more beloved as time goes on. It's hard to see how him joining the Jeopardy team would change that. And, given that Trebek has been working through a tough cancer diagnosis, it could stand to reason that if ever need be, Jennings could take over every once in a while to give America's favorite game show host a day off or two. Or maybe, at some point in the very distant future, Jennings will take over the show outright. Either way, this is great news.
This article was originally published on