Ken Jennings To Be The Interim Host of 'Jeopardy!'
But first, a Trebek marathon!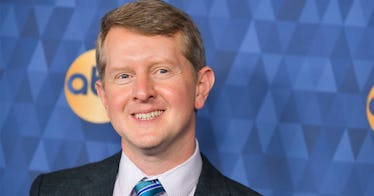 GETTY
After Alex Trebek tragically passed away in early November after a year-and-a-half-long battle with stage 4 pancreatic cancer, many Jeopardy! superfans wondered what the future of the iconic game show that has been on the air for 35 years would look like.
Well, now, they have an answer. After Jeopardy! airs every remaining episode hosted by Trebek in the queue, Ken Jennings, the man who revitalized the show in the early 2000s will act as an interim host — one of a series of rotating figures.
And there are some changes coming to the Jeopardy! airing schedule as well. While initially, after Trebek passed away, the show planned on airing the next six weeks of episodes Trebek filmed prior to his passing until the last episode with Trebek as host aired on Christmas day. Instead, the show will pause on the week of 12/21 and air 10 of the best episodes of Jeopardy! Trebek ever hosted and then air the final week of episodes starring Trebek from 1/4 going forward.
Ken Jennings is not the replacement host for the show, which is approaching 40 years of airtime. He's merely the first in a series of replacement hosts and will start production on a batch of episodes a few days after Thanksgiving. But, given that they're already going the Jennings route — he's long been favored as the eventual person to take over the Jeopardy! mantle, it's probably reasonable to expect other competition GOATS like James Holzhauer to take the podium.
Either way, as Jennings stated after the news broke that he would be hosting the show starting in 2021, there is no replacing Alex Trebek.