Keira Knightley Pens Essay About the Double Standard of Being a Working Mom in Hollywood
The English actress doesn't pull any punches.
by Alicia Kort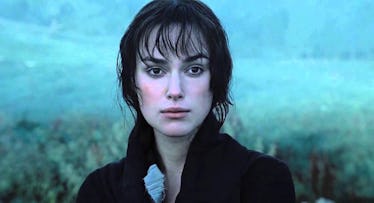 Keira Knightley has never been afraid to speak honestly about Hollywood or motherhood. And it doesn't look like she's about to stop any time soon. The 33-year-old actress and mother recently wrote about her experiences for Scarlett Curtis's book Feminists Don't Wear Pink (And Other Lies). Refinery29 published excerpts of her essay this week, and let's just say, Knightley didn't pull any punches.
Her essay covers the realities of childbirth, the difficulty of being a parent, and the double-standards she faces while on the set with working fathers. But what connects all of these topics is Knightley's unflinching honesty. She describes in graphic detail what it was like to give birth to her daughter Edie in 2015 and how she doesn't think that women should pretend to be immediately back to normal after childbirth.
The Pride and the Prejudice actress takes Hollywood to task expecting less from working dads and more from working moms on set. "I turn up on time, word perfect, with ideas and an opinion. I am up with you [her daughter] all night if you need me," Knightley writes, "Sometimes I cry I'm so tired. Up with you all night and work all day… My male colleagues can be late, can not know their lines. They can shout and scream and throw things. They can turn up drunk or not turn up at all. They don't see their children. They're working. They need to concentrate."
Knightley is saying that the men she works with aren't expected to parent at all. They're on the job, so they can put their fatherly duties on hold. Knightley can't afford to do that as a mother and nor would she want to. She goes on to explain how on top of all of this basic level of professionalism that she's also expected to perform the double-edged sword of femininity.
Her essay appears alongside others written by Emma Watson, Saoirse Ronan, and Jameela Jamil. Knightley is also starring in two films this fall, Colette and Disney's The Nutcracker and the Four Realms.
This article was originally published on