12-Year-Old Keedron Bryant's Protest Song For George Floyd Goes Viral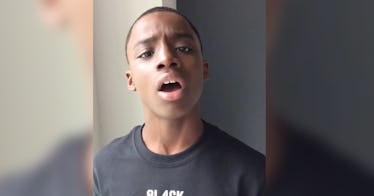 KeedronBryant/Instagram
Keedron Bryant is a 12-year-old gospel singer and artist who is currently competing on NBC's Little Big Shots, a reality television show that features the unreal talents of kids across the world. He's also currently going viral on Instagram after releasing a new, hauntingly beautiful song, presumably in response to recent current events — including the killing of 46-year-old George Floyd, a black Minneapolis man who was killed by a cop after the cop held him down with a knee to his neck for seven minutes as the man, who was handcuffed, complained he couldn't breathe and that he was going to die. After his death, which was captured on video, was broadcast online and on the news, protests against police violence erupted in Minneapolis.
This all happened the same week that Amy Cooper — a white woman who lives in New York City — was caught on video calling the police on a black man in the Ramble area of Central Park, a known bird-watching sanctuary, after he asked her to leash her dog.
Keedron Bryant responded to the events, it seems, with a beautiful song that he posted to Instagram, which has since been viewed nearly a million times and is being shared across social media at a pace.
In it, Keedron sings, "I'm a young black man/doing all that I can/to stand. Oh, but when I look around/and I see what's being done to my kind/every day, I'm being hunted as prey/My people don't want no trouble/we've had enough struggle/I just want to live/God, protect me/I just want to live/I just want to live." The video, which features Keedron singing solo, with no accompaniment and a t-shirt that says "black intelligence," is only a few minutes long. But it's deeply affecting. He finishes the song with, "I just want to live. I just want to live."
This article was originally published on