Keanu Reeves' Face is the Best Thing About the New 'Spongebob' Movie
Keanu Reeves stars as a wise piece of sage in the new SpongeBob Movie, which hits theaters in May 2020.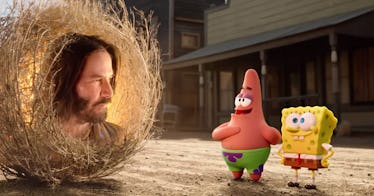 Paramount/Nickelodeon
The trailer for the third SpongeBob movie to hit theaters, The SpongeBob Movie: Sponge on the Run dropped today and a cameo of a familiar face to fans of John Wick, Speed, and Always Be My Maybe graced the trailer. That's right: Keanu Reeves, potentially the internet's favorite actor who was recently praised for dating an age-appropriate woman, snagged a part as a wise bundle of sage that looks a lot like tumbleweed, giving great wisdom to Patrick and SpongeBob as they look for Gary, SpongeBob's pet snail.
The film in general, the first SpongeBob movie to be entirely in CGI, seems to be about the search for Gary — like an even more anthropomorphized Finding Nemo — who gets stolen from SpongeBob. Despite being in CGI entirely, the film manages to hold on to some of the more pop, drawn-animation qualities by belying a quality of stop-motion to the film, despite the fact that it really is just CGI.
Meanwhile, SpongeBob and Patrick leave their safe haven of Bikini Bottom to travel to "The Lost City of Atlantic City," which appears to just be an underwater version of, well, Atlantic City. Patrick and Spongebob engage in travel, drive cars (I guess SpongeBob finally got his driver's license), gamble, struggle to do basic math, and more.
The film drops on May 22, 2020, and will feature not just Keanu but also Reggie Watts, Snoop Dogg and Awkwafina.