Keanu Reeves Donated His 'Matrix' Salary to An Incredible Cause
The coolest guy in Hollywood is also an all-around great dude.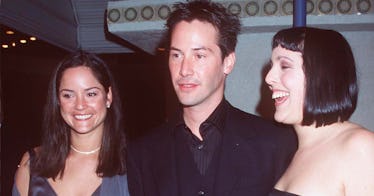 In case you needed any more evidence that Keanu Reeves is an all-around awesome dude, it turns out he donated 70 percent of his salary from the first Matrix film to leukemia research.
Keanu reportedly earned a $10 million upfront salary to star in the film and ended up making more than $35 million when it became a runaway hit, earning nearly half a billion dollars at the global box office. Rather than keep that money for himself, Keanu gave most of it away to help researchers try to treat and, hopefully, one day, cure leukemia, which is responsible for over 20,000 deaths in the U.S. alone each year.
There is a very personal reason Keanu decided to help fund leukemia research, as his sister Kim was diagnosed with the blood cancer in 1991. Keanu played a central role in helping her fight the disease over the next several decades, as he sold his house to move closer to her and reportedly spent over $5 million to get her the best treatment possible. He also had the Matrix sequels delayed so that he could continue to care for her.
Thankfully, this particular story does have a happy ending, as Kim has been free of cancer for over a decade now. But Keanu's commitment to aiding in the fight against leukemia has continued after his sister's victory. He launched a charity foundation in the mid-2000s to help people that are battling cancer, though he said in an interview that he tries not to talk too much about it to avoid drawing attention to himself.
"I don't like to attach my name to it, I just let the foundation do what it does," Keanu told Ladies Home Journal in 2009.