Kate Middleton's No Shouting Rule Is Great — for the Adults
A source revealed that Kate Middleton and Prince William don't shout at their kids — or let them shout at each other.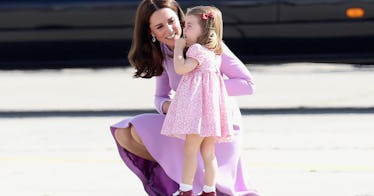 Chris Jackson/Getty Images
Parenting isn't easy – and that's true for everyone. Even literal royals struggle with raising kids, including Prince William and Kate Middleton. The only difference between us and them is that they have a mega spotlight on them and will be judged for literally anything. And all those eyeballs are likely behind Kate's rule for her kids: absolutely no shouting.
According to The Sun, the Duke and Duchess of Cambridge do their best to avoid shouting while parenting. This means they stay calm and composed even if 8-year-old Prince George, 6-year-old Princess Charlotte, and 3-year-old Prince Luis are acting up. And this no shouting rule happens whether the family is in the spotlight at the time or not.
According to the source who spoke with The Sun, the parents take the kiddo causing trouble "away from the scene of the row or disruption and talked to calmly by either Kate or William." From there, "things are explained, and consequences outlined, and they never shout at them."
Avoiding shouting at children is a great way to parent. Shouting at children can be damaging to children — and is rarely an effective discipline tool. The fact is, yelling at children does little to teach them what they did was wrong and does a lot to scare them and can even change their brains. Beyond that, kids learn by example. The less a parent shouts, the more they'll realize that shouting is not an effective communication tool with their peers.
But their "no shouting" rule applies to their kids, too. "Shouting is absolutely 'off limits' for the children and any hint of shouting at each other is dealt with by removal." That's less nice, because emotions, especially in children, are real and felt strongly. Kids need to be able to voice their feelings — and holding all that in can actually be bad for health.
Now, we're not saying that the Duke and Duchess should let their kids have screaming fights with each other or encourage meltdowns in the Tesco. But spats and disagreements are common, normal, and a good way for kids to learn conflict resolution with each other. Tantrums, too, are often a time when parents just have to wait out the big emotions before they can start walking their kid through the teachable moments. There are a lot of tactics to walk the kids through conflicts and big feelings, but experts do warn that teaching kid to ignore their feelings and hold in those emotions can have negative consequences, too.
Suppressing emotions can lead to bottled-up stress, which can translate into stomach issues, neck and shoulder pain, headaches, migraines, and all that can impact the heart, too. And when that suppression becomes the norm, the impact can be heavy, and trying to bring the balance out can feel impossible.
Teaching our kids how to stay calm and composed while we work out an issue is never a bad thing – the world, in general, could use a lot more of that. But we can't ignore the healthy ranges of emotions – which include frustrations, tantrums, and anger.
It would also help a lot if we as a society just allowed our kids to be kids. That includes letting them, sometimes loudly, express their full range of emotions and stop judging parents who are guiding their kids along the way.