Karate Instructor Teaches A Kid How To Break Through Boards (And Emotions)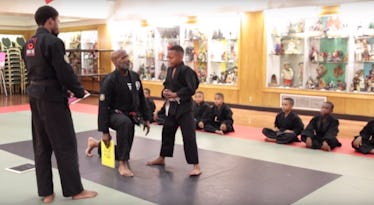 YouTube / Cave313
Mr. Miyagi taught the Karate Kid a lot of impressive things: How to paint the fence, how to balance Daniel san, and how to catch a fly with chopsticks (instead of using them as walrus teeth). But that doesn't begin to compare to karate instructor Shärath Jason Wilson, and not just because Mr. Miyagi is super '80s and not real. It's because Wilson taught a boy how to cry like a man — something you may not have mastered entirely yet in adulthood.
Wilson appears in a recently surfaced YouTube video coaching a kid through several unsuccessful attempts to breakthrough a bored. When the frustrated boy bursted into tears, Wilson didn't tell him to suck it up, or even to wax on (or off). He turned it into a moment that was equal parts teachable and emotional. "I don't mind crying… I cry too," Wilson told the boy, encouraging him to push through that. "Being a black man in this country, you're going to need mental fortitude." Eventually the kid stops crying and breaks through the board, as his peers applaud.
Wilson is the founder of Cave of Adullam Transformational Training Academy (CATTA) in Detroit, Michigan, a nonprofit serving young boys and men who are "emotionally distressed, physically in debt and mentally discontented." In other words, this isn't his first crying rodeo, and the clip might give you a few tips for helping junior process his feelings. Or you can take the Chuck Norris Facts approach to parenting, because he doesn't cry. His eyes just sweat.
[H/T] Carbonated TV
Want tips, tricks, and advice that you'll actually use? Click here to sign up for our email.
This article was originally published on