Relatable: VP Kamala Harris Googled Her Husband Before They Met
History in the making here.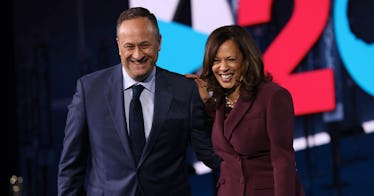 Getty
VP-elect Kamala Harris just admitted something big: that she Googled her now-husband Doug Emhoff before their first-ever blind date.
Their love story is a modern one: Kamala, who met Doug when she was in her late 40's, was set up on a blind date by a friend in 2013 with him. And, in a dual interview with CBS News Sunday Morning, VP-elect Harris and Doug did an interview together, talking about their love story and their roles as a history-making couple, Harris revealed a bombshell — that she had digitally checked up on Doug before their sparks flew.
The interviewer, Jane Pauley, asked Harris if she had Googled Doug before she met him on their blind date. Harris, flustered, burst out into laughter while Doug looks surprised right next to her. "Ooh, this is a reveal!" he says, looking at Harris and smiling, who looks embarrassed. "I've never been asked that!" she said, and then admits, "I did!" She reaches out to Doug and touches him on the arm as if to apologize.
She then moves on, while Doug smiles, bemused, as Harris talks about how they got set up and had their first date. For big fans of VP-elect Senator Kamala Harris, who takes office and will be the first woman and first woman of color to ever be the Vice President in the history of the United States on January 20th, the cute video serves as a reminder that tomorrow will be a momentous day.
Not only does VP-elect Harris have all of the history-changing representation on her shoulders and beneath her as she ascends to higher office but she also might be the first-ever VP-elect who Googled her future spouse. After all, everyone else has frankly been too old, and married for far too long, to Google their future husbands and wives.
The cute interview clip, clocking in at just under seven minutes long, details their modern love story and is super sweet. We look forward to history being made tomorrow when VP-elect Harris and the first-ever Second Gentleman take office together — having already Googled one another, of course.